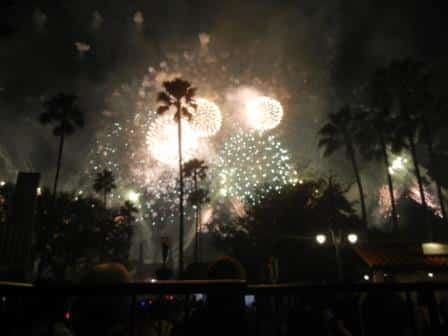 A few months ago, Disney further integrated Star Wars into the theme park experience by launching "Symphony in the Stars: A Galactic Spectacular" at Disney's Hollywood Studios. This new show is set to a Star Wars soundtrack and offers one of the best fireworks displays in all of Walt Disney World.
"Symphony in the Stars: A Galactic Spectacular" is launched from around the main stage area in the center of the park. It occurs nightly right after the Fantasmic show lets out and just before the park closes. I'd recommend checking either the My Disney Experience mobile app or this page to find out the showtime for a specific day.
If you feel like splurging a bit, there is the option to watch the show from a special VIP dessert part. For $69 (age 10+) and $39 (age 3-9), you will be treated with cupcakes and other goodies (including alcoholic drinks) and be able to sit in a roped off area near center stage. Just please note that there are no seats in this area and it is not covered by the Disney dining plan. More info about this option can be found here.
Pro Tip #1: If you have already seen the Fantasmic show in the past and want to get a good spot for the Star Wars Fireworks (which start almost immediately after), skip Fantasmic and stake out a good vantage point to watch the fireworks from. DO NOT pick a spot that is on a main sidewalk. You will be asked to move along and then skipping Fantasmic was all for not. The absolute best spot to watch the fireworks is from a corner table on the little patio in front of Starbucks (The Trolley Car Cafe) on Hollywood Boulevard.  Get there early, order an iced coffee and relax in chairs while you wait for the show. Best of all, nobody will be able to stand in front of you and there is room for strollers!

Pro Tip #2: As with anything that happens at the end of the day at a Disney park, if you have the ability to start leaving a bit before the end of the show, I would strongly advise you do so. Especially if you are staying at a Disney resort and need to take a bus back to the hotel. The staff does a pretty good job at keeping Hollywood Boulevard relatively clear of crowds, so you can usually get out early and still see the fireworks on the way out. If you wait until the end, you will likely be waiting at a bus terminal for a very long time…
Update 5/20/16:
Disney has announced that 'Symphony in the Stars: A Galactic Spectacular' will be revamped and re-branded as 'Star Wars: A Galactic Spectacular' on June 17, 2016. More info about the new show can be found here.