Here is everything you need to know about Walt Disney World's Epcot's extinct CommuniCore attraction including history, fun facts, photos and more. I hope you find this listing informative and helpful!
CommuniCore | Disney World Description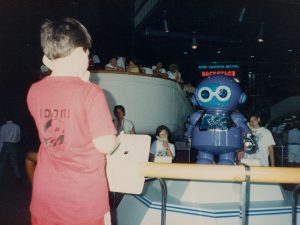 CommuniCore was a pavilion located in Epcot at Walt Disney World that opened with the park in 1982. The pavilion was divided into two sections: CommuniCore East and CommuniCore West. It was designed to showcase emerging technologies and innovations, as well as provide information and education on a variety of topics.
CommuniCore featured a range of interactive exhibits and activities, including hands-on computer games, interactive displays, and multimedia presentations. Some of the exhibits focused on themes such as transportation, energy, communication, and the environment.
In 1994, CommuniCore was replaced by Innoventions, which continued to showcase new technologies and innovations. Innoventions featured exhibits such as virtual reality simulations, video games, and interactive experiences that allowed guests to learn about new products and technologies.
Innoventions closed in 2015 and the space was eventually replaced by the Epcot Character Spot and other attractions. However, the legacy of CommuniCore can still be seen in the continued emphasis on technology and innovation in Epcot and the Disney parks as a whole.
---
CommuniCore | Disney World Fun Facts
It was designed as a two-part interactive exhibit that showcased advancements in communication and technology.
CommuniCore East focused on information technology, featuring exhibits such as "Astuter Computer Revue," a musical show starring animatronic characters.
CommuniCore West highlighted other aspects of communication, including interactive displays on energy, transportation, and the human body.
One of the most popular attractions in CommuniCore was "Epcot Computer Central," where guests could interact with computers and learn about emerging technologies.
CommuniCore also housed "EPCOT Outreach," a program that showcased cutting-edge innovations from companies around the world.
The exterior of CommuniCore featured a unique design with colorful geometric shapes, reflecting the futuristic aesthetic of Epcot.
CommuniCore was a hub of activity and learning, with various exhibits, displays, and demonstrations that encouraged guests to explore and engage with the exhibits.
---
CommuniCore | Disney World Details
CommuniCore | Disney World Experience:
---
---