Here is everything you need to know about Walt Disney World's Animal Kingdom park's Dinosaur ride including ride history, fun facts, photos and more. I hope you find this listing informative and helpful!
Description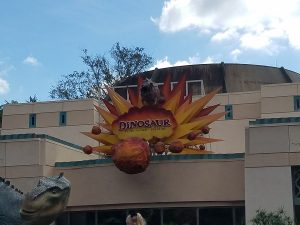 Dinosaur is an attraction at Disney's Animal Kingdom theme park at Walt Disney World. The attraction is located in the DinoLand U.S.A. area of the park and takes guests on a thrilling adventure back in time to the age of the dinosaurs.
The attraction is based on the Disney animated film "Dinosaur" and features a pre-show where guests are transported back in time to the late Cretaceous period. The main attraction then takes guests on a time travel adventure in a rugged Time Rover vehicle. The journey is full of twists, turns, and surprises as guests encounter various dinosaurs, including a fierce Carnotaurus and a towering Tyrannosaurus Rex.
The ride combines thrilling motion simulator technology with practical effects such as lighting, sound, and animatronics to create a fully immersive experience. The attraction is suitable for guests of all ages, but may be too intense for some younger children.
Overall, Dinosaur is a popular attraction at Disney's Animal Kingdom that combines thrilling technology and practical effects to transport guests back in time to the age of the dinosaurs. It's a must-see attraction for anyone who loves adventure and wants to experience the magic of Walt Disney World.
---
Fun Facts
The original name of this ride was 'Countdown to Extinction'
The ride name was changed to promote the Disney animated movie Dinosaur.
---
Important Details