Here is everything you need to know about Walt Disney World's Magic Kingdom's extinct Flight to the Moon show including history, fun facts, photos and more. I hope you find this listing informative and helpful!
Flight to the Moon Description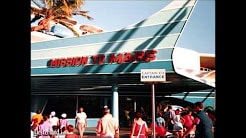 Flight to the Moon was an (almost) original attraction in Walt Disney World's Tomorrowland park area. The attraction made its debut shortly after the park opening, making its debut to the public in December 1971.
The ride included a pre-show segment featuring the iconic narrator Tom Morrow and then the core show which was essentially an interactive flight simulator.
This show ran from 1971-1975 and was replaced by the (very similar) Mission to Mars show. In the space where this attraction once took flight is currently Stitch's Great Escape…or whatever ends up replacing it.
---
Flight to the Moon Fun Facts
Flight to the Moon was a Disneyland attraction that carried over to Disney World, but was somewhat outdated wen it debut in Orlando. Since man had already gone to the moon, the premise of the attraction was a bit off. This was why it was rethemed to Mission to Mars after just a few years.
---
Flight to the Moon Details
---
---