Here is everything you need to know about Walt Disney World's Magic Kingdom's Prince Charming Regal Carrousel ride including history, fun facts, photos and more. I hope you find this listing informative and helpful!
Prince Charming Regal Carrousel | Disney World Description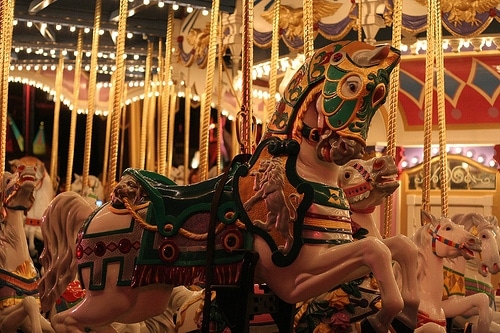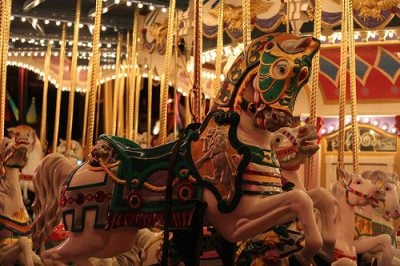 On the Prince Charming Regal Carrousel, climb aboard an ornate carousel horse and gallop through a whirling backdrop of color and sound.
Make you way beneath a vibrant medieval tent within the Castle Courtyard and select one of 90 wood-carved ornate horses—or one intricately carved chariot. Bedecked in golden helmets, decorative shields and flowing flower garlands and feathers, each magnificent steed is unique.
Test Your Horsemanship
As an old-fashioned organ plays, parade up and down in a gentle counter-clockwise direction atop your majestic horse. Spin around and feel a cool breeze brush across your face as you behold a menagerie of classic Fantasyland attractions in the not-too-far-off distance—including Cinderella Castle and Mickey's PhilHarmagic.
Command your prancing horse as the prince or princess of your very own fairytale by day or embark on a journey at night, basking in the magical glow of the carousel's 2,300 shimmering lights.
A Fairytale Come To Life
During your whimsical journey, relive the classic Disney animated film Cinderella through a series of 18 illustriously hand-painted vignettes on the inner rounding board above the horses. (source)
---
Prince Charming Regal Carrousel | Disney World Fun Facts
The carrousel was actually built in 1917.
---
Prince Charming Regal Carrousel | Disney World Details
---