Here is everything you need to know about Walt Disney World's Magic Kingdom's Prince Charming Regal Carrousel ride including history, fun facts, photos and more. I hope you find this listing informative and helpful!
Prince Charming Regal Carrousel | Disney World Description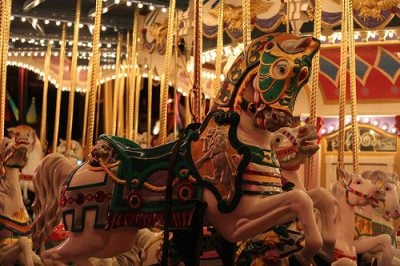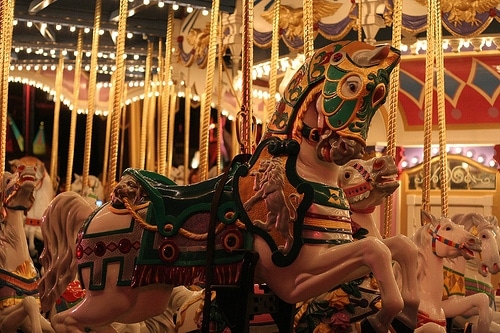 The Prince Charming Regal Carrousel is a classic and enchanting merry-go-round located at Magic Kingdom Park in Walt Disney World Resort, Florida. This iconic attraction is a centerpiece of Fantasyland and has been captivating guests of all ages since the park's opening in 1971.
The Prince Charming Regal Carrousel is a beautiful and ornate carousel featuring a variety of handcrafted, wooden horses and other enchanting creatures, each intricately detailed and painted in vibrant colors. The carousel's regal theming and musical accompaniment add to the sense of grandeur and nostalgia as guests take a spin on this timeless attraction.
The carousel's name pays homage to Prince Charming, the dashing prince from Disney's animated classic "Cinderella." Guests have the opportunity to ride on beautifully decorated steeds, each one uniquely designed to evoke the charm and elegance of a fairy tale.
The gentle and slow rotation of the carousel allows riders to take in the scenic views of Fantasyland and the Cinderella Castle, making it a perfect attraction for families and guests of all ages to enjoy together.
The Prince Charming Regal Carrousel has been a beloved and enduring symbol of Disney magic, providing generations of visitors with cherished memories and a sense of wonder as they embrace the classic carousel experience.
For guests looking to step into the pages of a fairy tale and relive the nostalgia of a traditional merry-go-round, the Prince Charming Regal Carrousel offers a magical and timeless ride that continues to be a cherished part of the enchanting world of Fantasyland in Magic Kingdom Park. So, climb aboard one of the whimsical steeds and let the carousel transport you to a realm of dreams and imagination!
---
Prince Charming Regal Carrousel | Disney World Fun Facts
The carrousel was actually built in 1917.
---
Prince Charming Regal Carrousel | Disney World Details
---