Here is everything you need to know about Walt Disney World's Epcot's Soarin' Around the World ride including history, fun facts, photos and more. I hope you find this listing informative and helpful!
Soarin' Around the World | Disney World Description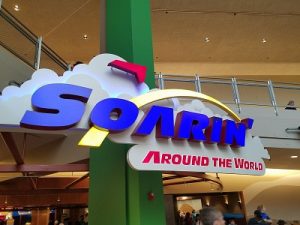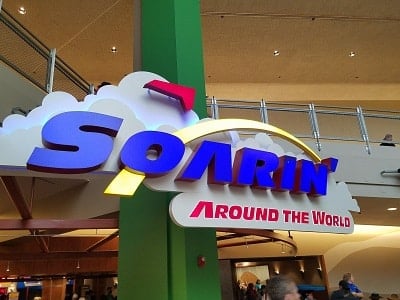 Soarin' Around the World is a popular flight-simulation attraction at Disney World, located in Epcot's Future World. It debuted in June 2016 and is a reimagined version of the original Soarin' attraction that was first introduced at Disney California Adventure Park.
The attraction takes guests on a breathtaking and immersive journey around the world, simulating a hang-glider flight over some of the most iconic landmarks and natural wonders of the globe. Riders are seated in a multi-row, suspended theater with their feet dangling, giving them a sensation of soaring through the air.
As the attraction begins, guests are lifted into the air, and a giant, concave, wraparound screen surrounds them. The screen displays stunning high-definition footage captured by IMAX cameras, creating an incredibly realistic and awe-inspiring visual experience.
During the flight, guests get to explore various famous locations, including the Great Wall of China, the Eiffel Tower in Paris, the Taj Mahal in India, and the African savanna, among others. The attraction incorporates special effects like scents and gentle movements to further enhance the immersive experience.
The attraction's musical score, composed by Bruce Broughton, adds to the sense of wonder and excitement as guests glide over these magnificent global landmarks.
Soarin' Around the World provides a thrilling and family-friendly adventure, immersing guests in the beauty of our planet's diverse landscapes and cultures. With its breathtaking visuals, innovative technology, and universal appeal, Soarin' Around the World has become a must-visit attraction at Disney World, captivating audiences of all ages.
Soarin Challenge Details:
Disney has also unveiled a new interactive game that visitors can play while in queue to see the revamped attraction at Epcot. 'Soarin Challenge' is an interactive travel trivia game that guests can play on their mobile device.
Image courtesy Disney Parks
Here is Disney's quick description of Soarin Challenge:
This complimentary travel trivia game allows guests to join hundreds of other players to answer questions on geography, cuisine, languages and more. Guests can also unlock passport stamps for their digital collection and aim to up their personal score on the leaderboard. Don't have a mobile device? No problem – look to one of the in-queue displays to participate.
---
Soarin' Around the World | Disney World Fun Facts
Soarin' Around the World replaced Soarin' Over California in 2016.
The movie part of the ride last roughly 4:45.
Number of guests that the Soarin theater accommodates: 40
Size of the Soarin projection screen: 80 feet
Height that guests are elevated to watch the film: 40 feet
Locations visited in the ride's movie:

Matterhorn in Switzerland
Isfjord, Greenland
Sydney Harbor in Sydney, Australia
Neuschwanstein Castle in Bavaria, Germany
Kilimanjaro National Park and Mount Kilimanjaro in Tanzania
The Great Wall of China
The Pyramids in Egypt
Taj Mahal in Uttar Pradesh, India
West and East Mitten Buttes in Monument Valley, Arizona
Lau Islands, Fiji
Iguazu Falls, Argentina
Eiffel Tower in Paris, France
Epcot
---
Soarin' Around the World | Disney World Details
---