Here is everything you need to know about Walt Disney World's Epcot's Soarin' Around the World ride including history, fun facts, photos and more. I hope you find this listing informative and helpful!
Soarin' Around the World | Disney World Description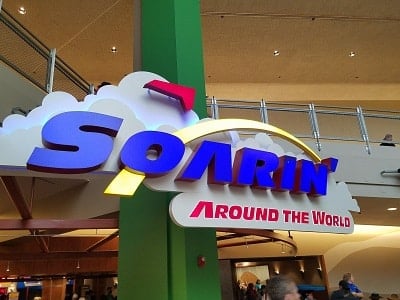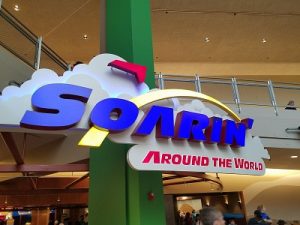 Take flight on a breezy, airborne adventure as you hang glide above some of the most breathtaking wonders the world has to offer.
Depart on an all-new journey through the sky, flying high from one extraordinary landmark to the next. It's Soarin' Around the World!
An Exhilarating International Adventure
Through the bright lights and glowing halls of a newly designed concourse awaits a tour like no other. Passengers, prepare for liftoff—you're about to visit some of the planet's most awe-inspiring destinations!
No mountain is too high. No landscape is too far. Whether you're soaring above man-made marvels like the majestic Great Wall of China, cruising over natural sights like Iguazu Falls in South America or swooping past sailboats on Australia's spectacular Sydney Harbour, this is your chance to experience the joy of hang gliding as you never have before.
So get ready—and strap yourselves in for this epic re-imagining of a beloved Future World attraction!
Live the Dream of Flying
In the grand Disney tradition, Imagineers pulled out all the stops to make fantasy reality, bringing the feeling of flight to life using a 180-degree, 80-foot IMAX projection dome and aerially captured footage that simulates the graceful motion of a hang glider.
Spectacular new digital projection technology lifts the sensation to new heights of brilliance. Thrill as you're raised 40 feet in the air, engulfed in the stunning panoramas and swept from one scenic locale to the next!
Soarin Challenge Details:
Disney has also unveiled a new interactive game that visitors can play while in queue to see the revamped attraction at Epcot. 'Soarin Challenge' is an interactive travel trivia game that guests can play on their mobile device.
Here is Disney's quick description of Soarin Challenge:
This complimentary travel trivia game allows guests to join hundreds of other players to answer questions on geography, cuisine, languages and more. Guests can also unlock passport stamps for their digital collection and aim to up their personal score on the leaderboard. Don't have a mobile device? No problem – look to one of the in-queue displays to participate.
---
Soarin' Around the World | Disney World Fun Facts
Soarin' Around the World replaced Soarin' Over California in 2016.
The movie part of the ride last roughly 4:45.
Number of guests that the Soarin theater accommodates: 40
Size of the Soarin projection screen: 80 feet
Height that guests are elevated to watch the film: 40 feet
Locations visited in the ride's movie:

Matterhorn in Switzerland
Isfjord, Greenland
Sydney Harbor in Sydney, Australia
Neuschwanstein Castle in Bavaria, Germany
Kilimanjaro National Park and Mount Kilimanjaro in Tanzania
The Great Wall of China
The Pyramids in Egypt
Taj Mahal in Uttar Pradesh, India
West and East Mitten Buttes in Monument Valley, Arizona
Lau Islands, Fiji
Iguazu Falls, Argentina
Eiffel Tower in Paris, France
Epcot
---
Soarin' Around the World | Disney World Details
Disney Resort: Walt Disney World Resort
Disney Park: Epcot
Park Area: Epcot Land Pavilion
Attraction Type: Ride
Year Opened: 2005
Replaced: Food Rocks
---
---