Here is everything you need to know about Walt Disney World's Hollywood Studios' Star Tours ride including ride history, fun facts, photos and more. I hope you find this listing informative and helpful!
Description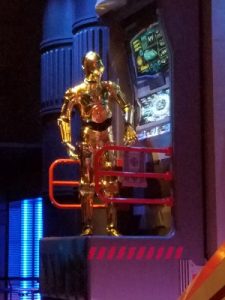 Star Tours was an exciting and immersive motion simulator attraction located at Disney's Hollywood Studios in Walt Disney World Resort. The attraction was based on the iconic Star Wars film franchise and allowed guests to embark on an intergalactic adventure through the galaxy far, far away.
Upon entering Star Tours, guests found themselves in a spaceport terminal with droids, Star Wars characters, and references to the beloved film series. The queue area was filled with details that transported visitors into the Star Wars universe, setting the stage for an unforgettable experience.
In the ride, guests boarded a Starspeeder 1000, a transport spacecraft, for a thrilling journey through different Star Wars planets and iconic scenes. The ride used motion simulators, 3D projection technology, and special effects to create an immersive and dynamic experience. The flight sequences were randomized, offering guests the opportunity to encounter various characters, locations, and scenarios, making each ride unique.
The adventure was narrated by C-3PO, the lovable protocol droid, who guided the Starspeeder through various missions and encounters with familiar Star Wars characters like Darth Vader, Yoda, Princess Leia, and more.
Star Tours combined the excitement of space travel with the beloved characters and storytelling of Star Wars, making it a must-visit attraction for fans of all ages. The ride was a fantastic way to immerse oneself in the epic Star Wars universe and experience thrilling space battles and daring escapes.
As with all Disney theme park attractions, it's essential to check the official Disney website or the My Disney Experience app for the most current information on attractions, operating hours, and any updates related to Star Tours. Although the attraction has been popular since its opening, Disney continuously evolves its offerings to provide new experiences, ensuring guests have a galaxy of adventures to explore during their visit to Walt Disney World Resort.
---
Fun Facts
Captain Rex in Star Tours is voiced by Paul Rubens (Pee-wee Herman)
Star Tours is actually "Star Tours – The Adventures Continue." The shows changed in 2011.
---
Important Details
Star Wars Character(s) in this Post:
C-3PO