Here is everything you need to know about Walt Disney World's Hollywood Studios' Star Tours ride including ride history, fun facts, photos and more. I hope you find this listing informative and helpful!
Star Tours | Disney World Description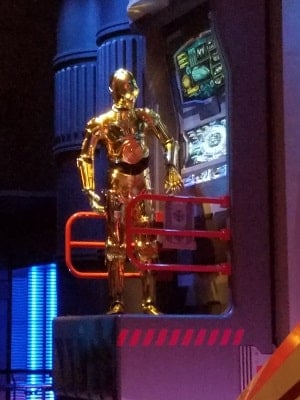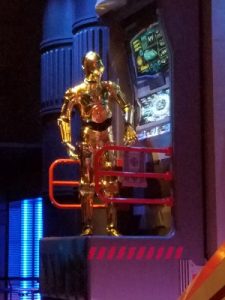 Make the jump to hyperspace as you ride aboard a 3D, motion-simulated space flight to popular destinations from Star Wars.
Blast off on a thrilling tour of the Star Wars galaxy aboard a Starspeeder 1000. Voyage to amazing alien worlds—like Naboo or Coruscant—and come face to face with the likes of Boba Fett or Darth Vader.
Featuring state-of-the-art technology—including a flight simulator, digital 3D video, Audio-Animatronics characters and "in cockpit" special effects and music—Star Tours – The Adventures Continue immerses you in the Star Warsmythology for an unforgettable intergalactic adventure.
Pre-Boarding
Hurry along the forest moon of Endor—home to rustic Ewok cottages and a towering AT-AT—and make your way through a sleek Rebel bunker to a bustling Star Tours spaceport. Inside, behold R2-D2 and C-3PO tinkering away on a Starspeeder 1000—your cosmic transportation vehicle—amid a throng of projection screens, glowing scanners and blinking droids.
Weave your way up a ramp past customs and baggage screening before picking up a pair of 3D flight glasses and continuing to your departure gate. Following instructions from an overhead monitor, board your interstellar vehicle for your journey through outer space.
Become a Hero of the Rebellion!
As you prepare for lift-off, a series of mishaps unwittingly causes your starship to launch and C-3PO to take control. Suddenly, your space cruiser is intercepted by Imperial forces. Fearing capture, C-3PO pilots your ship on an unpredictable flight that will rocket you to the farthest reaches of the galaxy and back!
Tour the Universe
During your voyage, interact with many of the otherworldly characters and places made famous in the Star Wars saga.
Hold on tight as you exit hyperspace to find yourself in the middle of a furious starship battle above Coruscant. Plunge into the oceans of Naboo and avoid the clutches of monstrous fish. Retreat inside the dreaded Death Star to escape Darth Vader before doing battle with Boba Fett. You may even find yourself fighting the First Order on Jakku, alongside the Millennium Falcon!
Will your starspeeder elude capture and safely transport you—and the rebel spy—safely back to the Alliance base? May the Force be with you.
---
Star Tours | Disney World Fun Facts
Captain Rex in Star Tours is voiced by Paul Rubens (Pee-wee Herman)
Star Tours is actually "Star Tours – The Adventures Continue." The shows changed in 2011.
---
Star Tours | Disney World Details
---
Star Wars Character(s) in this Post:
C-3PO