Here is everything you need to know about the amazing Pixar movie Brave including casting, reviews, fun facts and more. I hope you find this listing informative and helpful!
Brave Description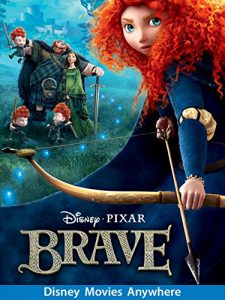 "Brave" is an animated fantasy film produced by Pixar Animation Studios and released by Walt Disney Pictures in 2012. Directed by Mark Andrews and Brenda Chapman, the film takes place in the Scottish Highlands and follows the story of Merida, a courageous and headstrong princess voiced by Kelly Macdonald.
Merida, a skilled archer and the daughter of King Fergus (voiced by Billy Connolly) and Queen Elinor (voiced by Emma Thompson), is determined to forge her own path in life, rather than following the traditional role of a princess. However, when a series of events leads to chaos and danger in her kingdom, Merida must rely on her bravery and archery skills to undo the curse she unintentionally set loose.
The film is renowned for its strong portrayal of female empowerment and challenging traditional gender roles. Merida is a refreshing and independent Disney princess who defies stereotypes and fights for her own destiny. The relationship between Merida and her mother Elinor also serves as a significant aspect of the movie, emphasizing the importance of communication and understanding between parents and children.
"Brave" was highly acclaimed for its stunning animation, rich storytelling, and emotional depth. It won the Academy Award for Best Animated Feature and earned widespread praise for its depiction of a strong female protagonist. The film's themes of bravery, family, and the value of being true to oneself resonated with audiences, making "Brave" a beloved addition to the Disney-Pixar canon.
---
Brave Fun Facts
It is the first Pixar film to feature a female protagonist and the studio's first fairy tale.
"Brave" takes place in the Scottish Highlands and follows the story of Merida, a skilled archer and princess who defies an age-old tradition, setting off a chain of events that leads her on an adventurous journey.
The film was directed by Mark Andrews and Brenda Chapman, with Chapman being the first woman to direct a feature film for Pixar.
"Brave" received critical acclaim for its stunning visuals, rich storytelling, and strong portrayal of a female protagonist.
The character of Merida was designed with realistic and distinct curly red hair, which required significant technical advancements in animation to achieve the desired effect.
The film explores themes of family, independence, and the importance of staying true to oneself.
The voice cast includes Kelly Macdonald as Merida, along with Emma Thompson, Billy Connolly, and Julie Walters, among others, who bring the Scottish characters to life with their accents.
"Brave" won the Academy Award for Best Animated Feature and received a nomination for Best Original Song for "Learn Me Right" by Mumford & Sons.
The film showcases the rich cultural traditions and landscapes of Scotland, including Highland games, bagpipe music, and stunning vistas of the Scottish countryside.
"Brave" broke new ground for Pixar by featuring a complex and empowering story centered around a young woman's journey of self-discovery, resonating with audiences of all ages.
---
Brave Crew:
Directors: Mark Andrews and Brenda Chapman
Producer: Katherine Sarafian
Music: Patrick Doyle
---
Brave Details
Brave Trailer:
---