Here is everything you need to know about the amazing Disney movie Cinderella (Live-Action) including casting, reviews, fun facts and more. I hope you find this listing informative and helpful!
Description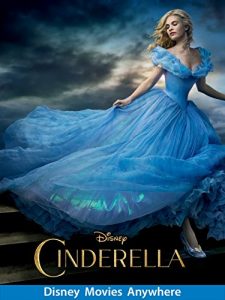 "Cinderella" is a live-action fantasy film released by Walt Disney Pictures in 2015. It is a reimagining of the classic 1950 animated film "Cinderella" and is directed by Kenneth Branagh. The film stars Lily James as Cinderella, Cate Blanchett as the wicked stepmother Lady Tremaine, and Richard Madden as Prince Kit.
The movie follows the timeless story of Cinderella, a young girl who lives with her wicked stepmother and stepsisters after her father's death. Despite the hardships, she remains kind and optimistic, cherishing the memories of her parents and their belief in "having courage and being kind."
One day, an invitation arrives for a royal ball at the palace, and Cinderella's life takes a magical turn. With the help of her Fairy Godmother, played by Helena Bonham Carter, she transforms into a beautiful princess, destined to meet the prince. At the ball, she captivates Prince Kit, and they share a magical dance, but she must leave before midnight when her enchantment ends.
The iconic glass slipper is left behind, becoming the symbol of the prince's search for his true love. Despite Lady Tremaine's attempts to sabotage Cinderella, the prince eventually finds her, and they live happily ever after.
The live-action version of "Cinderella" retains the heartwarming charm of the original while adding depth to the characters and providing a fresh perspective on the classic fairy tale. The film received critical acclaim for its enchanting visuals, strong performances, and lush costume designs.
"Cinderella" exemplifies the power of kindness, courage, and staying true to oneself, making it a beloved addition to Disney's live-action adaptations of classic animated films. It remains a favorite among audiences of all ages, capturing the timeless magic of the beloved fairy tale.
---
Crew:
Director: Kenneth Branagh
Producers: Simon Kinberg, Allison Shearmur and David Barron
Music: Patrick Doyle
---
Additional Details
---
Cinderella (Live-Action) Trailer:
---