Here is everything you need to know about Walt Disney World's Magic Kingdom's Cinderella Castle attraction including history, fun facts, photos and more. I hope you find this listing informative and helpful!
Cinderella Castle | Disney World Description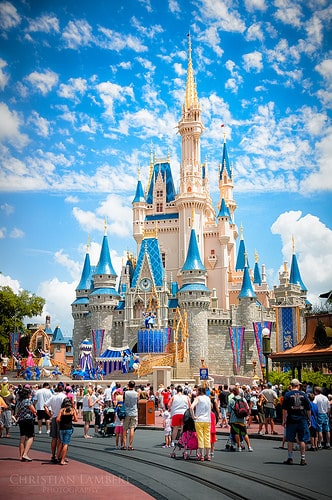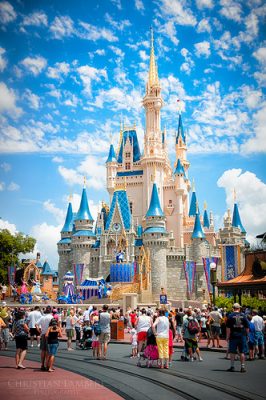 Cinderella Castle is an iconic structure located in the heart of Magic Kingdom Park at Walt Disney World Resort. The castle serves as the centerpiece of the park and is one of the most recognizable landmarks in the world.
The castle was inspired by the fairy tale of Cinderella and was designed to resemble a European castle from the 16th century. It stands at 189 feet tall and is adorned with ornate details such as spires, turrets, and stained glass windows.
Inside Cinderella Castle, guests can find a variety of experiences, including Cinderella's Royal Table, a restaurant where guests can enjoy a fairy tale character dining experience with Cinderella and other Disney princesses. There is also a suite inside the castle that was originally designed as a private apartment for Walt Disney, but is now occasionally used for special events and promotions.
The castle serves as a backdrop for many of the park's iconic attractions, including the nightly fireworks show, "Happily Ever After," and the parade, "Festival of Fantasy." During special events, such as Mickey's Not-So-Scary Halloween Party and Mickey's Very Merry Christmas Party, the castle is transformed with special lighting effects and projections.
Overall, Cinderella Castle is a beloved and iconic symbol of the Disney Parks and is a must-see for guests visiting Magic Kingdom Park.
---
Cinderella Castle | Disney World Fun Facts
The castle is 183 feet tall (tallest structure in the Magic Kingdom, but not the tallest at Disney World).
The castle was designed by Herb Ryman. Ryman was an artist and Imagineer most known as the person that sat with Walt Disney and, in one weekend in 1953, sketched the entire Disneyland Park concept for Walt to bring to New York the following week to present to investors.
The castle looks much taller than it is due to forced perspective.
The castle has 3 elevators, but only one is open to the public. That elevator brings guests from the waiting area to the dining room of Cinderella's Royal Table.
The castle is made of concrete, steel, cement, plaster and fiberglass.
It took roughly 18 months to build the castle.
The castle structure can withstand 125 mph winds.
There are 27 towers on the castle.
The murals inside the castle took 22 months to produce. They were designed by Imagineer Dorothea Redmond and installed by a team led by artist Hanns-Joachim Scharff.
There was once a larger moat around the castle in which the Swan Boats operated.
Cinderella's Royal Table was originally called King Stefan's Banquet Hall, even though King Stefan appeared in Sleeping Beauty and not Cinderella.
The moat that surrounds the castle contains 3.37 million gallons of water and is 6 feet deep.
Unlike its sister castle in Disneyland, Cinderella Castle's drawbridge cannot be raised.
---
Cinderella Castle | Disney World Details
---