Here is everything you need to know about Walt Disney World's Magic Kingdom's Cinderella Castle attraction including history, fun facts, photos and more. I hope you find this listing informative and helpful!
Cinderella Castle Description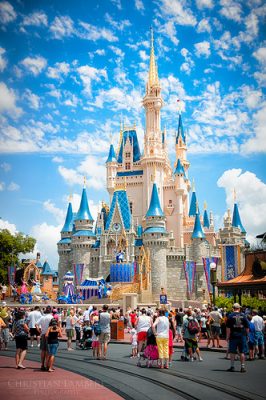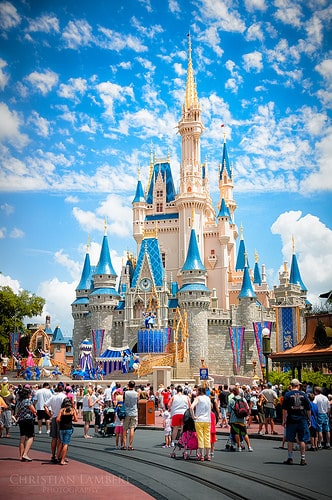 Inspired by the castle in Disney's Cinderella, the iconic Cinderella Castle is the symbol of Magic Kingdom park.
A Fairytale Come True
Rising high in the sky at the end of Main Street, U.S.A., Cinderella Castle welcomes you to a magical world of fantasy and fun. The central icon of Walt Disney World Resort, the castle invites all who visit to celebrate in a place where dreams come true.
A Classic Design
Boasting soaring spires, ornate turrets and regal royal-blue rooftops, the 189-foot castle invokes both the magic and mystery of real-world castles—such as Fontainebleau and Versailles—and fictional palaces like the one seen in Disney's animated classic Cinderella.
Adding to the enchanted environment, the castle is surrounded by a tranquil moat, lush green grass, rose bushes and a wishing well, providing perfect picture-taking opportunities from nearly every angle.
Nighttime Enchantment
Cinderella Castle provides a spectacular backdrop for the fireworks extravaganzas that occur in Magic Kingdom park on select nights. Over 16 million colored lights illuminate the castle when the sun sets; and during fireworks shows, lights and music effortlessly come together to create an even more magical setting.
Inside the Castle
Step inside Cinderella Castle and feel like the hero or heroine of your own storybook adventure. Within the main castle corridor, 5 handcrafted mosaic murals—containing 14-karat gold and silver plus over one million pieces of glass in 500 different colors—tell the classic tale of Cinderella.
Located within, Cinderella's Royal Table and Bibbidi Bobbidi Boutique craft even more magical experiences for the young and young-at-heart.
Cinderella's Royal Table
Cinderella's Royal Table lets you dine with Disney Princesses amid a storybook setting for breakfast, lunch and dinner.
Bibbidi Bobbidi Boutique
Bibbidi Bobbidi Boutique is a beauty salon where girls and boys are magically transformed into little princesses and knights. Magical makeover packages include hairstyling and make-up services, manicures, costumes and photos.
---
Cinderella Castle Fun Facts
The castle is 183 feet tall (tallest structure in the Magic Kingdom, but not the tallest at Disney World).
The castle was designed by Herb Ryman. Ryman was an artist and Imagineer most known as the person that sat with Walt Disney and, in one weekend in 1953, sketched the entire Disneyland Park concept for Walt to bring to New York the following week to present to investors.
The castle looks much taller than it is due to forced perspective.
The castle has 3 elevators, but only one is open to the public. That elevator brings guests from the waiting area to the dining room of Cinderella's Royal Table.
The castle is made of concrete, steel, cement, plaster and fiberglass.
It took roughly 18 months to build the castle.
The castle structure can withstand 125 mph winds.
There are 27 towers on the castle.
The murals inside the castle took 22 months to produce. They were designed by Imagineer Dorothea Redmond and installed by a team led by artist Hanns-Joachim Scharff.
There was once a larger moat around the castle in which the Swan Boats operated.
Cinderella's Royal Table was originally called King Stefan's Banquet Hall, even though King Stefan appeared in Sleeping Beauty and not Cinderella.
The moat that surrounds the castle contains 3.37 million gallons of water and is 6 feet deep.
Unlike its sister castle in Disneyland, Cinderella Castle's drawbridge cannot be raised.
---
Cinderella Castle Details
---
---