Here is everything you need to know about the amazing Disney movie High School Musical 3: Senior Year  including casting, reviews, fun facts and more. I hope you find this listing informative and helpful!
High School Musical 3: Senior Year  Description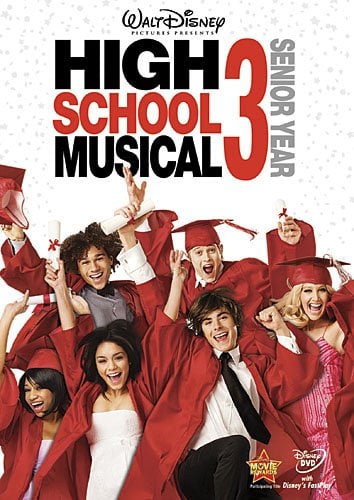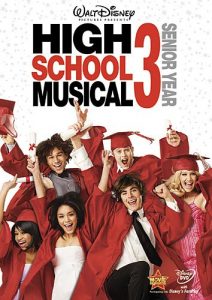 It's almost graduation day for high school seniors Troy, Gabriella, Sharpay, Chad, Ryan and Taylor — and the thought of heading off in separate directions after leaving East High has these Wildcats thinking they need to do something they'll remember forever. Together with the rest of the Wildcats, they stage a spring musical reflecting their hopes and fears about the future and their unforgettable experiences growing up together. But with graduation approaching and college plans in question, what will become of the dreams, romances and friendships of East High's senior Wildcats?
---
High School Musical 3: Senior Year  Cast:
Zac Efron: Troy Bolton
Vanessa Hudgens: Gabriella Montez
Ashley Tisdale: Sharpay Evans
Lucas Grabeel: Ryan Evans
Corbin Bleu: Chad Danforth
Monique Coleman: Taylor McKessie
Bart Johnson: Jack Bolton
Alyson Reed: Ms. Darbus
Olesya Rulin: Kelsi Nielsen
Chris Warren, Jr.: Zeke Baylor
Ryne Sanborn: Jason Cross
Kaycee Stroh: Martha Cox
Leslie Wing Pomeroy: Lucille Bolton
Socorro Herrera: Lisa Montez
Joey Miyashima: Dave Matsui
Dave Fox: Coach Kellogg
Jemma McKenzie-Brown: Tiara Gold
Matt Prokop: Jimmie "Rocket Man" Zara
Justin Martin: Donnie Dion
Robert Curtis Brown: Vance Evans
Jessica Tuck: Darby Evans
David Reivers (Corbin Bleu's father): Charlie Danforth
Yolanda Wood: Jenny Danforth
Jeremy Banks: Stagehand
Todd Snyder: Mr. Juilliard
Tara Starling: Ms. Juilliard
Manly "Little Pickles" Ortega: Boi Evans
Stan Ellsworth: Mr. Riley
---
High School Musical 3: Senior Year  Crew:
Director: Kenny Ortega
Producers: Bill Borden and Barry Rosenbush
Music: David Lawrence
---
High School Musical 3: Senior Year  Details
High School Musical 3: Senior Year  Trailer:
---