Here is everything you need to know about the amazing Disney movie High School Musical including casting, reviews, fun facts and more. I hope you find this listing informative and helpful!
Description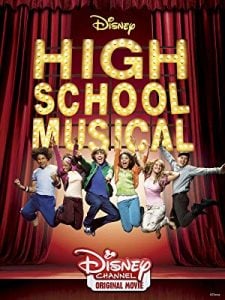 "High School Musical" is a Disney Channel Original Movie that premiered in 2006 and quickly became a cultural phenomenon. The film follows the story of Troy Bolton (played by Zac Efron), the captain of the basketball team, and Gabriella Montez (played by Vanessa Hudgens), a shy and intelligent newcomer to East High School.
Troy and Gabriella meet during a New Year's Eve karaoke party at a ski lodge, where they discover a shared love for singing. Despite their different social circles, they find themselves auditioning for the school's winter musical, much to the surprise of their friends and peers.
As the two lead characters navigate the challenges of fitting into new social groups and facing peer pressure, they also face opposition from Sharpay Evans (played by Ashley Tisdale) and her twin brother Ryan (played by Lucas Grabeel), who have always been the stars of the school's musical productions.
Throughout the movie, Troy and Gabriella struggle to balance their newfound love for singing and performing with the expectations of their friends and teammates. They must decide whether to follow their passion for music or conform to the expectations of others.
"High School Musical" is a heartwarming and entertaining film that promotes the values of friendship, self-discovery, and staying true to oneself. Its catchy and memorable songs, such as "Breaking Free," "Get'cha Head in the Game," and "Start of Something New," contributed to the movie's widespread success.
The film's positive messages and relatable characters resonated with audiences of all ages, making it one of Disney Channel's most successful original movies. The success of "High School Musical" led to the creation of two sequels, "High School Musical 2" and "High School Musical 3: Senior Year," as well as a spin-off series called "High School Musical: The Musical: The Series."
Overall, "High School Musical" is a beloved movie that has left a lasting impact on popular culture, inspiring a generation of young viewers and continuing to be celebrated by fans worldwide.
---
High School Musical Fun Facts
The film was originally intended to be a small-scale made-for-TV movie, but it became a surprise hit and spawned two sequels, a spin-off film, and a stage musical.
The film's popularity helped to launch the careers of several of its young stars, including Zac Efron, Vanessa Hudgens, and Ashley Tisdale.
The film was shot in just 24 days in Salt Lake City, Utah.
The film's choreography was created by Kenny Ortega, who had previously worked on several other popular musical films, including "Dirty Dancing" and "Newsies."
The character of Sharpay Evans, played by Ashley Tisdale, was originally intended to be a one-dimensional antagonist, but Ortega and Tisdale worked to make the character more complex and sympathetic.
The film was nominated for two Emmy Awards, and won an American Music Award for Favorite Soundtrack.
The film's success led to a cultural phenomenon known as "HSM" or "High School Musical," with merchandise, clothing, and other products being sold around the world.
---
Crew:
Writer: Peter Barsocchini
Director: Kenny Ortega
Producer: Don Schain
---
Additional Details
Movie Studio: Disney
Type of Movie: Live Action
Movie Platform: Disney Channel Original Movie
---
High School Musical Trailer:
---