Here is everything you need to know about the amazing Pixar movie Inside Out including casting, reviews, fun facts and more. I hope you find this listing informative and helpful!
Inside Out Description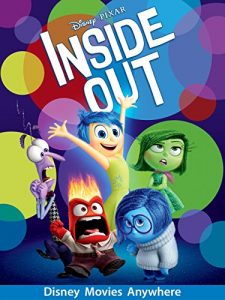 "Inside Out" is an animated comedy-drama film produced by Pixar Animation Studios and released by Walt Disney Pictures in 2015. Directed by Pete Docter and co-directed by Ronnie del Carmen, the film takes place inside the mind of an 11-year-old girl named Riley Andersen.
The story revolves around Riley's emotions, which are personified as colorful characters living in her mind's headquarters. Joy (voiced by Amy Poehler), Sadness (voiced by Phyllis Smith), Fear (voiced by Bill Hader), Anger (voiced by Lewis Black), and Disgust (voiced by Mindy Kaling) work together to manage Riley's feelings and memories as she navigates life's challenges, including a family move to a new city.
As Riley's emotions struggle to cope with the changes in her life, Joy and Sadness embark on a journey through the different areas of Riley's mind, encountering various islands that represent her core personality traits and memories. The movie explores the complexities of human emotions, the importance of acknowledging sadness as an essential part of life, and the significance of growing up and adapting to change.
"Inside Out" received widespread critical acclaim for its innovative concept, heartfelt storytelling, and emotional depth. It won the Academy Award for Best Animated Feature and was praised for its unique approach to exploring mental and emotional health. The film resonated with both children and adults, sparking meaningful conversations about emotions and mental well-being.
By personifying emotions and creating a whimsical world within the mind, "Inside Out" provides a powerful and relatable depiction of the human psyche. It serves as a reminder that emotions are a natural and essential aspect of being human, and that embracing all our feelings can lead to personal growth and resilience. The film's positive messages, stunning animation, and endearing characters have made it a beloved classic in the world of animated films.
---
Inside Out Fun Facts
The film was directed by Pete Docter, who was inspired by his own experiences and observations of human emotions.
"Inside Out" takes place largely inside the mind of an 11-year-old girl named Riley, personifying her emotions as Joy, Sadness, Fear, Anger, and Disgust.
The film's unique concept explores the complexities of human emotions, memories, and the inner workings of the mind, all through a colorful and imaginative lens.
The voice cast includes Amy Poehler as Joy, Phyllis Smith as Sadness, Bill Hader as Fear, Lewis Black as Anger, and Mindy Kaling as Disgust.
"Inside Out" received critical acclaim for its creativity, emotional depth, and ability to resonate with audiences of all ages.
The film won the Academy Award for Best Animated Feature and was nominated for Best Original Screenplay.
The filmmakers worked closely with psychologists and experts in the field of emotion to ensure the film's portrayal of emotions and mental processes was accurate and relatable.
"Inside Out" features a unique visual design, with each emotion having its own distinctive appearance and color palette.
The movie explores important themes of emotional development, growing up, and the complexity of human experiences.
"Inside Out" had a positive impact beyond the screen, sparking conversations about mental health, emotional well-being, and the importance of understanding and embracing all emotions.
---
Inside Out Cast:
Amy Poehler: Joy
Phyllis Smith: Sadness
Richard Kind: Bing Bong
Bill Hader: Fear
Lewis Black: Anger
Mindy Kaling: Disgust
Kaitlyn Dias: Riley
Diane Lane: Mom
Kyle MacLachlan: Dad
Paula Poundstone: Forgetter Paula
Bobby Moynihan: Forgetter Bobby
Paula Pell: the dream director and Mom's Anger
Dave Goelz: Subconscious Guard Frank
Frank Oz: Subconscious Guard Dave
Josh Cooley: Jangles
Flea: Mind Worker Cop Jake
John Ratzenberger: Fritz
Carlos Alazraqui: a helicopter pilot
Peter Sagal: Clown's Joy
Rashida Jones: Cool Girl's emotions
---
Inside Out Crew:
Director: Pete Docter
Producer: Jonas Rivera
Music: Michael Giacchino
---
Inside Out Details
Inside Out Trailer:
---