Here is everything you need to know about the amazing Disney movie Maleficent including casting, reviews, fun facts and more. I hope you find this listing informative and helpful!
Maleficent Description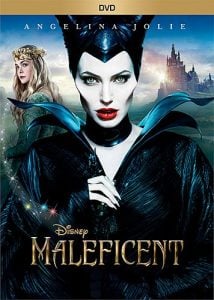 "Maleficent" is a fantasy film released in 2014 by Walt Disney Pictures. It is a reimagining of the classic fairy tale "Sleeping Beauty" and tells the story from the perspective of the iconic villain, Maleficent, played by Angelina Jolie. The film is directed by Robert Stromberg and also stars Elle Fanning, Sharlto Copley, Sam Riley, Imelda Staunton, Juno Temple, and Lesley Manville.
The movie explores the untold backstory of Maleficent, a powerful fairy who lives in the magical Moors, a realm adjacent to the human kingdom. She is kind and caring, but her life takes a tragic turn when she falls in love with Stefan, played by Sharlto Copley, a human who eventually betrays her to become king.
Heartbroken and seeking revenge, Maleficent curses Stefan's newborn daughter, Princess Aurora, played by Elle Fanning, to fall into a deep sleep on her sixteenth birthday, only to be awakened by true love's kiss. However, as the years pass and Maleficent watches over Aurora, she begins to care for the young princess and regrets the curse she placed on her.
The film delves into themes of betrayal, love, and redemption as Maleficent struggles to come to terms with her past and find a way to break the curse she cast. It also explores the relationship between Maleficent and Aurora, showcasing a unique bond between the supposed villain and the princess.
"Maleficent" received positive reviews from both audiences and critics, praising Angelina Jolie's performance as the titular character and the visually stunning special effects. The film's portrayal of Maleficent as a complex and multidimensional character gave a fresh perspective to a well-known fairy tale.
The success of "Maleficent" led to a sequel titled "Maleficent: Mistress of Evil," which was released in 2019. The second installment continues the story of Maleficent and her relationship with Aurora as they face new challenges and threats to their kingdoms.
Overall, "Maleficent" is a captivating and visually appealing film that provides a new take on a classic fairy tale. It highlights the power of forgiveness and the importance of understanding others' perspectives, even in the face of betrayal and darkness.
---
Maleficent Crew:
Director: Robert Stromberg
Producer: Joe Roth
Writer: Linda Woolverton
---
Maleficent Details
Maleficent Trailer:
---