Here is everything you need to know about the amazing Touchstone Pictures movie The Nightmare Before Christmas  including casting, reviews, fun facts and more. I hope you find this listing informative and helpful!
The Nightmare Before Christmas  Description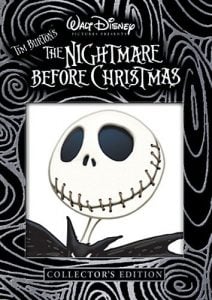 "The Nightmare Before Christmas" is a unique and enchanting stop-motion animated musical fantasy film released in 1993. Directed by Henry Selick and produced by Tim Burton, the film tells the story of Jack Skellington, the Pumpkin King of Halloween Town.
Tired of the same old routine of scaring people on Halloween, Jack stumbles upon Christmas Town and is captivated by its joy and beauty. He becomes obsessed with bringing Christmas to Halloween Town and decides to take over the holiday, with the help of his loyal but mischievous companions, Lock, Shock, and Barrel.
The film beautifully blends the dark and whimsical sensibilities of Tim Burton's unique artistic vision with the magic and wonder of Christmas. It features stunningly crafted visuals, from the hauntingly beautiful Halloween Town to the colorful and festive Christmas Town. The stop-motion animation gives the film a distinct and eerie charm that makes it stand out from other animated movies of its time.
The film's music, composed by Danny Elfman, is a standout feature, with memorable songs that capture the essence of both Halloween and Christmas. "This Is Halloween," "What's This?" and "Jack's Lament" are just a few of the iconic songs that have become beloved by fans.
At its core, "The Nightmare Before Christmas" is a story about self-discovery, identity, and the power of individuality. Jack's journey from a bored and restless Pumpkin King to someone who finds his true purpose and appreciation for his own holiday is heartwarming and relatable.
Since its release, "The Nightmare Before Christmas" has achieved a cult following and has become a holiday classic. Its unique blend of dark humor, charming characters, and beautifully crafted animation has captivated audiences of all ages. The film's themes of embracing one's uniqueness and finding one's place in the world resonate with viewers and have made it a timeless and cherished piece of cinema. Whether it's Halloween or Christmas, "The Nightmare Before Christmas" continues to be a beloved film that holds a special place in the hearts of its fans.
---
The Nightmare Before Christmas  Fun Facts
The movie is notable for its unique animation technique called stop-motion, where physical models are moved incrementally and captured frame by frame to create the illusion of movement.
The character of Jack Skellington, the Pumpkin King of Halloween Town, has become an iconic figure associated with the film. His design was influenced by Burton's childhood memories of Halloween and his love for horror films.
"The Nightmare Before Christmas" is known for its catchy and memorable songs composed by Danny Elfman, who also provided the singing voice for Jack Skellington.
The film initially had a modest box office performance, but it gained a cult following over the years and has become a beloved holiday classic, celebrated for its unique blend of Halloween and Christmas themes.
The production of the film was a labor-intensive process. It took three years to complete, with a team of animators meticulously crafting each frame using a combination of puppets and miniatures.
The movie's success led to the creation of various merchandise, including toys, clothing, and collectibles. It also inspired a wide range of fan art and cosplay.
"The Nightmare Before Christmas" was nominated for the Academy Award for Best Visual Effects, marking the first time a stop-motion animated film had been recognized in that category.
The film's setting, Halloween Town, has inspired the creation of themed attractions and experiences in theme parks, including Disneyland's Haunted Mansion Holiday overlay during the Christmas season.
Despite its popularity and iconic status, "The Nightmare Before Christmas" did not receive a theatrical sequel. However, it has inspired numerous adaptations, spin-offs, and expanded universes in other media.
---
The Nightmare Before Christmas  Cast:
---
The Nightmare Before Christmas  Crew:
Director: Henry Selick
Producers: Tim Burton and Denise Di Novie
Music: Danny Elfman
---
The Nightmare Before Christmas  Details
Movie Studio: Touchstone Pictures
Year Released: 1993
Type of Movie: Animated
Box Office: $75.1 million
Awards: Nominated Academy Award; Nominated Golden Globe
The Nightmare Before Christmas  Trailer:
---