Here is everything you need to know about the amazing Disney series Dumbo's Circus including casting, episodes, fun facts and more. I hope you find this listing informative and helpful!
Dumbo's Circus Description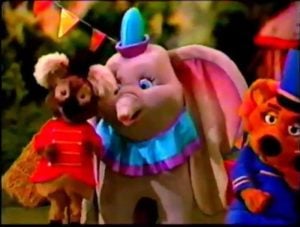 "Dumbo's Circus" is a live-action/puppetry television series that aired on The Disney Channel from May 6, 1985, to May 28, 1989. The show was a spin-off of the classic Disney film "Dumbo" and featured characters from the movie in a new and imaginative setting.
The series is set in a colorful circus, where Dumbo the elephant, who can now fly with the help of his magic feather, becomes the star attraction. Dumbo is joined by a diverse cast of puppet characters, each with their own unique personalities and talents.
Some of the main puppet characters in "Dumbo's Circus" include Lionel the Lion, Fair Dinkum the kangaroo, B. Bop the bandleader bear, Lilli the bird, and Q.T. the gorilla. Together, they form a close-knit circus family and engage in exciting adventures under the big top.
The show combines live-action performances with puppetry, creating a whimsical and entertaining atmosphere reminiscent of classic circus acts. Each episode features a blend of storytelling, songs, and colorful visuals that capture the magic and joy of a circus.
"Dumbo's Circus" is known for its heartwarming and positive messages, teaching young viewers about friendship, teamwork, and embracing one's unique abilities.
While the show originally aired on The Disney Channel, it has since become a beloved part of Disney's television history and is fondly remembered by fans who enjoyed the delightful and imaginative world of Dumbo and his circus friends.
As a cherished piece of Disney's nostalgic past, "Dumbo's Circus" continues to hold a special place in the hearts of viewers who experienced the wonder of the circus through the adventures of Dumbo and his lovable puppet companions.
---
Dumbo's Circus Cast:
Dumbo: Katie Leigh
Lionel: Jim Cummings
Sebastian: Walker Edmiston
Fair Dinkum: Hal Smith
Barnaby Bowser: Will Ryan
Lilli: Patricia Parris
Q.T.: Ron Gans
---
Dumbo's Circus Details:
Dumbo's Circus Trailer:
Disney Character(s) in this Post:
Dumbo
---