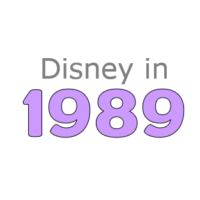 The Walt Disney Company has a rich and lengthy history with decades of amazing movies, shows and park experiences. To commemorate Disney's 100th birthday this year, I am spotlighting the company's history year by year in this new 'Disney by the Years' series.
Here is a quick rundown of everything that happened in the world of Disney in the year 1989. I hope you find this lookback in time helpful and entertaining.
Disney Movies Headlines in 1989:
1989 saw two major developments within their movie segments. First, and foremost, the success of the animated classic The Little Mermaid, is widely considered the beginning of the Disney animated movie renaissance. While entertaining, the animated movies released by Disney in the 1970's and 80's are looked upon as a step below the ones produced by Walt. The Little Mermaid was followed by new classics like Beauty and the Beast, Aladdin and The Lion King, giving Disney one of its most successful periods ever.
The other major development was the launch of Hollywood Pictures. The new production house was launched in February and its first movie, Arachnophobia, would be released in July of the following year. Hollywood Pictures was established to increase Disney's live-action mature movie content. Touchstone Pictures was established earlier in the decade for the same purpose, and enjoyed enormous success, so Disney was looking to expand its output. Some of the blockbuster movies that will be released by Hollywood Pictures in the coming years include: Tombstone, Dangerous Minds, Mr. Holland's Opus, Evita and The Sixth Sense.
In 1989, Disney released several movies, including:
In 1989, Touchstone released several movies, including:
As was custom at this time, Disney also re-released a number of classic movies to theaters in 1989:
Also in 1989, Disney won 4 (3 regular and 1 special achievement) Oscars for Who Framed Roger Rabbit (released in 1988).
Overall, 1989 was a busy year for Disney, with a mix of new live-action films and the beginning of the Disney animated film renaissance.
Disney Parks Headlines in 1989:
Disneyland Headlines:
July 17 – Splash Mountain opens at Disneyland Park. This whimsical flume ride was an instant classic and quickly became a must-do attraction. The ride was replicated in a number of Disney parks across the globe including Disney World, where it opened in 1992.
Also worth noting was the popular Sunkist Citrus House was replaced in 1989 with Blue Ribbon Bakery.
Disney World Headlines:
Activities in 1989 truly reshaped the Disney World Resort for decades with a number of new properties and lands opening during the year. Here is a rundown of what opened at Disney World in 1989:
May 1 – Disney-MGM Studios (Now Disney's Hollywood Studios) opened giving Disney its third gate at the resort.
May 1 – Pleasure Island opens at Downtown Disney (Now Disney Springs). This new entertainment district enjoyed early popularity and lasted decades before the entire area was overhauled.
June 1 – Typhoon Lagoon opened. This was Disney's first water park at the resort to open since River Country in 1976 and was significantly bigger than its predecessor.
October 19 – The Wonders of Life pavilion at Epcot opened. This was the final major Future World pavilion to open at Epcot. The new park area included popular attractions Body Wars and Cranium Command as well as a number of educational exhibits and activities related to health and wellness.
Also worth noting was that Delta Dreamflight replaced If You Could Fly at the Magic Kingdom in 1989.
Here is a complete rundown of every ride, attraction, restaurant and shop at the Magic Kingdom over the years.
Disney Television Headlines in 1989:
In 1989, the Disney Afternoon, which would launch the next year, was starting to take shape with DuckTales and The Adventures of the Gummi Bears going strong and a new animated show, Chip 'n Dale Rescue Rangers, making its debut in March.
In April, NBC aired "The Disney-MGM Studios Theme Park Grand Opening" as it was a tradition to air lengthy grand opening specials on TV when a new park opened.
Also of note in 1989 was the launch of a new iteration of The Mickey Mouse Club. This is the version that launched the careers of future mega stars Britney Spears, Justin Timberlake, Ryan Gosling and Christina Aguilera.
Additional new television series debuting in 1989 include: Teen Win, Lose or Draw, Just Like Family, Teen Angel and A Conversation With…
That's all for 1989. Stay tuned for in-depth looks at additional years in the very near future!