Here is everything you need to know about Walt Disney World's Magic Kingdom's extinct Delta Dreamflight attraction including history, fun facts, photos and more. I hope you find this listing informative and helpful!
Description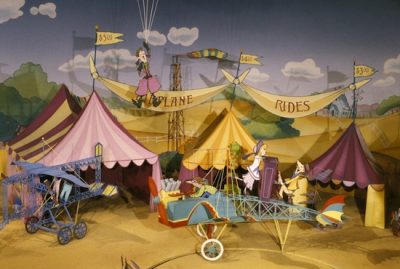 Delta Dreamflight was an omnimover ride in the Magic Kingdom's Tomorrowland from 1989-1996. The attraction originally opened on June 23, 1989, and was sponsored by Delta Air Lines, which is why it was named "Delta Dreamflight." The attraction featured impressive audio-animatronic figures, immersive sets, and special effects that brought the aviation history to life. From the Wright brothers' first flight to the futuristic space travel, Delta Dreamflight provided an entertaining and educational experience for guests of all ages.
This ride replaced the similar ride If You Could Fly when the ride sponsorship switched from Eastern Airlines to Delta. It was eventually changed to Dreamflight and then Take Flight after the Delta sponsorship ended and in 1998 closed for good. The space is now used for Buzz Lightyear's Space Ranger Spin.
---
Fun Facts
You can still see some of the dioramas from this attraction when riding the People Mover. They appear in windows just as you enter the rear of the Buzz Lightyear building on the right.
Delta sponsored this attraction from 1989-1995.
The attraction's queue featured a number of interactive elements, such as a large airplane model, and a number of Tomorrowland-themed posters and signs.
The attraction was popular among guests looking for a fun and thrilling ride, and for those who wanted to experience the feeling of flying.
The ride featured a number of different scenes, including views of tropical locations such as the Caribbean, Mexico, and Florida.
"Delta Dreamflight" closed after only a short period of time, in 1989, and it was replaced by "Dreamflight" which was a simulator ride that took guests on a journey through different parts of the world. It closed in 1998 and it was replaced by "Buzz Lightyear's Space Ranger Spin"
---
Important Details
---