Here is everything you need to know about Walt Disney World's Hollywood Studios' extinct The Great Movie Ride including history, fun facts, photos and more. I hope you find this listing informative and helpful!
Description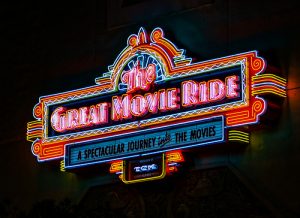 The Great Movie Ride was an iconic attraction that was once located at Disney's Hollywood Studios (formerly known as Disney-MGM Studios) in Walt Disney World Resort, Florida. It paid homage to classic and beloved movies, taking guests on a journey through the magic of cinema.
The attraction was housed inside a replica of the iconic Grauman's Chinese Theatre. As guests entered, they were transported to the glamorous days of Hollywood's golden age. The queue area featured a grand lobby with movie memorabilia and fascinating artifacts, setting the stage for the cinematic adventure to come.
Once aboard the ride vehicles, which resembled classic movie theater cars, guests embarked on a guided tour through various scenes representing iconic films from different genres. Each scene was brought to life through audio-animatronics, special effects, and detailed sets, immersing visitors in the magic of the movies.
Some of the featured movies included "The Wizard of Oz," "Casablanca," "Singin' in the Rain," "Alien," "Raiders of the Lost Ark," and many others. The attraction showcased memorable moments and characters from these classic films, delighting both movie enthusiasts and casual visitors alike.
The Great Movie Ride concluded with a grand finale, celebrating the magic of movie-making and the impact of cinema on our lives. The ride's narrative emphasized the power of storytelling and the timeless appeal of the silver screen.
Sadly, The Great Movie Ride closed its doors for the final time on August 13, 2017, after nearly 30 years of operation. It made way for a new attraction, Mickey and Minnie's Runaway Railway, which opened in its place in March 2020.
Although The Great Movie Ride is no longer in operation, its legacy lives on in the hearts of Disney fans who fondly remember the magical journey through classic cinema it once offered. It remains a cherished part of Disney history and continues to be celebrated by enthusiasts and nostalgists as one of the most beloved attractions ever to grace Disney's Hollywood Studios.
---
Important Details
---