Here is everything you need to know about the amazing Disney series Rapunzel's Tangled Adventure  including casting, episodes, fun facts and more. I hope you find this listing informative and helpful!
Rapunzel's Tangled Adventure  Description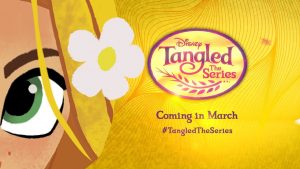 "Rapunzel's Tangled Adventure," originally titled "Tangled: The Series," is an animated television series that premiered on Disney Channel in 2017. It is based on the popular 2010 animated film "Tangled" from Walt Disney Animation Studios, which itself was based on the fairy tale of Rapunzel.
The series picks up after the events of the movie and follows the further adventures of Rapunzel, the spirited and long-haired princess, and her loyal companions Eugene Fitzherbert (Flynn Rider) and her chameleon friend, Pascal. Now that Rapunzel has returned to her kingdom and has been reunited with her birth parents, she sets out to discover the truth about her past and her magical hair's origin.
Throughout the show, Rapunzel faces various challenges, encounters new characters, and goes on thrilling escapades. She learns more about her abilities, her responsibilities as a princess, and her destiny. Along the way, she must confront old enemies and navigate the complexities of her newfound royal life.
"Rapunzel's Tangled Adventure" features a mix of comedy, drama, action, and musical elements. The series includes original songs that capture the essence of the Disney magic and add depth to the storytelling.
The show was well-received by both audiences and critics for its engaging storytelling, vibrant animation, and the expansion of the beloved characters and world of "Tangled." It allowed fans to continue following Rapunzel's journey and further explore her relationship with Eugene while introducing new exciting plots and enchanting adventures.
---
Rapunzel's Tangled Adventure  Cast:
Zachary Levi – Eugene
Mandy Moore – Rapunzel
Eden Espinosa – Cassandra
Clancy Brown – King Federic
Julie Bowen – Queen Arianna
James Monroe Iglehart – Lance
Paul F. Tompkins – Shorty
Jeremy Jordan – Varian
---
Rapunzel's Tangled Adventure  Details:
Year of Debut: 2017
Year of Finale: 2020
Type of Series: Animated
TV Channel/Platform: Disney Channel, Disney Junior
Rapunzel's Tangled Adventure  Trailer:
Buy Movie
---