Astro Orbiter (Disneyland)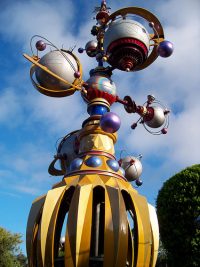 Astro Orbiter Description:
As the newest star pilot to join the fleet, the time has come for you to take to the sky in your Astro Orbiter.
After receiving word from Ground Control, make your way to a colorful 3-passenger spaceship and prepare for launch. Then, hold on tight as your rocket levitates and begins a series of rapid revolutions around a galaxy of planets—inspired by centuries-old astronomical designs—as the sights and sounds of Tomorrowland whizz by in the distance
Steer Through Outer Space
As the commander of your own rocket, you are in control of your flight. Direct how high you fly by pulling or pushing the lever inside the ship.
Photo by Castles, Capes & Clones
Disney Park(s) in this Post:
Disneyland Park
---
Related Articles:
---