Fantasy in the Sky (Disneyland Park)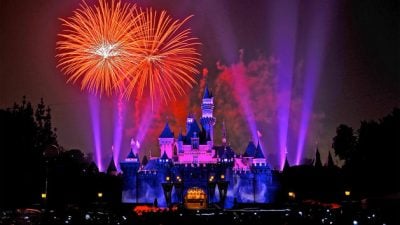 Fantasy in the Sky Details:
With the Fantasy in the Sky nighttime show, be wowed by fantastic fireworks and an unforgettable soundtrack that weaves together songs from beloved Disney movies.
This classic Disneyland spectacular pays tribute to the past with breathtaking pyrotechnic effects accompanied by a medley of familiar melodies. From the sweet sentiment of "A Dream Is a Wish Your Heart Makes" to everyone's favorite tongue-twister, "Supercalifragilisticexpialidocious," you just might catch yourself singing out loud!
You'll also be "oohing and "aahing" as hundreds of brilliantly colored bursts dance across the sky in time to the music. This modern rendition features almost double the number of fireworks compared to earlier Disneyland shows, with breathtaking precision in the timing and position of each thrilling effect.
Back in 1958, Walt Disney envisioned the original Fantasy in the Sky―an awe-inspiring finale that lit up the sky above Sleeping Beauty Castle. This Disneyland tradition began with Walt's inspiration for a "kiss goodnight" and continues to delight Guests across the generations.
---
Disney Park(s) in this Post:
Disneyland Park
---
---
---