The Lion Guard Mobile App
Last Updated on: January 1st, 2019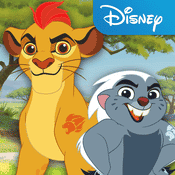 ROAR! Inspired by the new Disney Junior show, join Kion and  The Lion Guard in an adventure full of action to protect the Pride Lands!
Run with Kion in 5 wonderful sights and compelling: the Terre Verdi, the Great Source, gorges, waterfalls Hakuna Matata and the Lands of None.
Call to rally the Guard members, each with different powers, to help Kion to overcome the dangers.
Collect tokens, unleashes the powerful "" Roar of the Elders "" Kion and complete rescue missions before the sun sets!
The Lion Guard Mobile App Features:
Run in 25 fantastic levels set across 5 challenging areas of the Pride Lands, from lush Terre Verdi to fiery Lands None.
Pay attention to the wicked hyenas, the evil vultures, to the very hungry crocodiles and many more!
Fill the Roar bar Kion to unleash the special "" Roar of the Elders "".
Hurry to complete rescue missions before the sun sets!
Exceeds the pitfalls in your way by choosing the help of a member of the Guard, each with their own special abilities:
or the courage to Banga (honey badger) allows him to repel snakes, create bridges and climb the cliffs.
or tonnage of Beshte (hippo) destroys any obstacles and provides steps to Kion through dangerous rivers of mud and lakes.
or the sharp eyes of Ono (heron) Kion helps find safe routes and intelligence helps him to get more enemies in one shot!
or the incredible speed of Fuli (Cheetah) protects Kion from the snares.