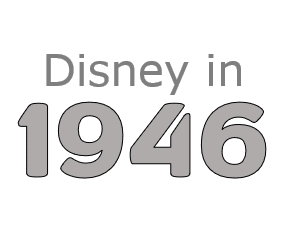 The Walt Disney Company has a rich and lengthy history with decades of amazing movies, shows and park experiences. To commemorate Disney's 100th birthday this year, I am spotlighting the company's history year by year in this new 'Disney by the Years' series.
Here is a quick rundown of everything that happened in the world of Disney in the year 1946. I hope you find this lookback in time helpful and entertaining.
Disney Company Headlines in 1946:
Overall, 1946 was a relatively quiet year for the Walt Disney Company. The world was emerging from a devastating war and was looking to catch its breath a bit before the boom of the 1950's.
Disney Movies Headlines in 1946:
1946 was not a particularly strong year for Disney movies as the company was still transitioning from making movies to support the war effort to producing feature length theatrical films for entertainment again. The studio released just two feature films that year – Make Mine Music in April and Song of the South in November.
The studio also re-released Dumbo, Bambi and Fantasia to theaters in 1946.
A notable occurrence in 1946, and one that generally flies under the radar when looking at Disney history was Mickey Mouse getting a new voice. The duties of voicing the iconic mouse were transitioned from Walt Disney to Jimmy Macdonald in 1946.
That's all for 1946. Stay tuned for in-depth looks at additional years in the very near future!