Here is everything you need to know about Walt Disney World's Hollywood Studios' extinct High School Musical 2: School's Out Show including history, fun facts, photos and more. I hope you find this listing informative and helpful!
Description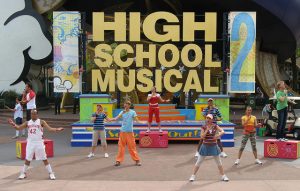 "High School Musical 2: School's Out" was a live stage show based on the popular Disney Channel Original Movie "High School Musical 2." The show was performed at Disney's Hollywood Studios theme park at Walt Disney World Resort in Florida.
The stage production brought the beloved characters and catchy songs from "High School Musical 2" to life, giving guests the opportunity to experience the magic and excitement of the movie in a live theatrical setting. The show featured talented performers who portrayed characters such as Troy, Gabriella, Sharpay, Ryan, and the rest of the East High Wildcats.
"High School Musical 2: School's Out" typically took place in a specially designed theater within Disney's Hollywood Studios. The show incorporated high-energy dance routines, vibrant costumes, and impressive sets that recreated the iconic locations from the movie.
Throughout the performance, guests were invited to sing along to fan-favorite songs like "What Time Is It?," "Fabulous," "You Are the Music in Me," and "All for One." The show captured the spirit of friendship, fun, and summer adventures depicted in "High School Musical 2," making it an entertaining and engaging experience for audiences of all ages.
---
Important Details