Here is everything you need to know about Walt Disney World's Magic Kingdom's Liberty Square Riverboat ride including history, fun facts, photos and more. I hope you find this listing informative and helpful!
Liberty Square Riverboat | Disney World Description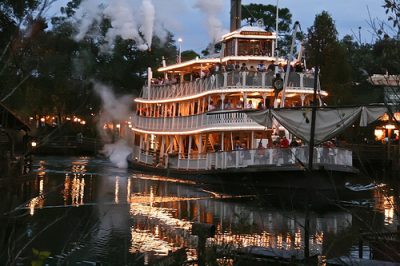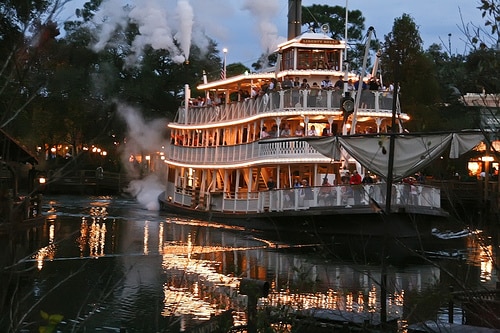 Liberty Square Riverboat, also known as the Liberty Belle, is a classic and iconic attraction located in Liberty Square at the Magic Kingdom theme park in Walt Disney World Resort, Florida. This charming steam-powered riverboat takes guests on a leisurely cruise along the scenic waters of the Rivers of America.
The Liberty Square Riverboat is designed to resemble an authentic 19th-century steamboat, reminiscent of the vessels that navigated America's waterways during the time of Mark Twain.
The attraction provides guests with a relaxing and nostalgic journey as they step aboard the riverboat and embark on a scenic voyage. As the Liberty Belle sets sail, guests can enjoy breathtaking views of Frontierland, Tom Sawyer Island, and the Haunted Mansion, all while being immersed in the ambiance of a bygone era.
The riverboat's open-air decks and classic design offer plenty of space for guests to move around, take photos, and soak in the picturesque scenery along the riverbanks.
During the ride, a recorded narration by Mark Twain himself recounts fascinating tales and stories about the history of America's rivers and the era of steamboat travel, adding an educational and entertaining element to the experience.
The Liberty Square Riverboat operates at a leisurely pace, making it an ideal attraction for guests seeking a break from the excitement of the park's thrill rides. It's an opportunity to slow down, enjoy the gentle breeze, and appreciate the beauty of the Magic Kingdom from a different perspective.
Please note that attraction experiences and offerings at Walt Disney World are subject to change, and operational schedules may vary. To confirm the availability and operating hours of the Liberty Square Riverboat during your visit, I recommend checking the official Walt Disney World website or consulting with Disney Cast Members at the park.
The Liberty Square Riverboat is a beloved and timeless attraction that allows guests to step back in time and experience the magic of a riverboat journey through America's storied past. So, come aboard the Liberty Belle and embark on a delightful voyage along the Rivers of America for an unforgettable experience at Magic Kingdom!
---
Liberty Square Riverboat | Disney World Fun Facts
The ride was not technically an opening day attraction as it actually made its debut a day later on October 2, 1971.
Until 1980, there were actually two boats in operation – The Richard F Irvine and the Admiral Joe Fowler. The Richard F Irvine was renamed to the Liberty Belle in 1996.
The boat has a capacity of 450 guests.
The boat is propelled by its paddle wheel and powered by its steam engine, but guided by an external I-Beam track.
---
Liberty Square Riverboat | Disney World Details
---