Here is everything you need to know about Walt Disney World's Magic Kingdom's Liberty Square Riverboat ride including history, fun facts, photos and more. I hope you find this listing informative and helpful!
Liberty Square Riverboat | Disney World Description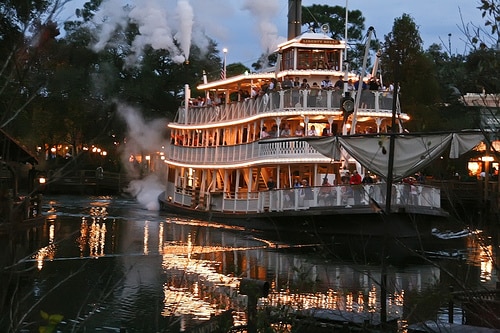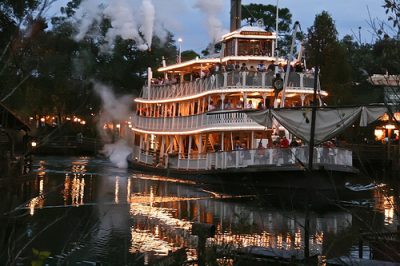 Cruise the scenic Rivers of America aboard the Liberty Belle and take a gander at life in the U.S. over a century ago.
Take off on a scenic half-mile adventure into the wilds of old America aboard a steam-powered paddler wheeler. Board the Colonial-American-inspired, 3-tiered Liberty Belle riverboat nestled in the heart of Liberty Square and embark on a relaxing journey around Tom Sawyer Island along the Rivers of America.
Sights to See
During this charming, 17-minute journey into America's early frontier, behold a menagerie of sights along the river's edge including:
Along the way, listen to lively narration by iconic American author Mark Twain as he details a time when traveling was as much about new discoveries as it was about transportation. (source)
---
Liberty Square Riverboat | Disney World Fun Facts
The ride was not technically an opening day attraction as it actually made its debut a day later on October 2, 1971.
Until 1980, there were actually two boats in operation – The Richard F Irvine and the Admiral Joe Fowler. The Richard F Irvine was renamed to the Liberty Belle in 1996.
The boat has a capacity of 450 guests.
The boat is propelled by its paddle wheel and powered by its steam engine, but guided by an external I-Beam track.
---
Liberty Square Riverboat | Disney World Details
---
---