Here is everything you need to know about the amazing PizzeRizzo restaurant at Walt Disney World's Disney's Hollywood Studios including history, reviews, fun facts, photos and more. I hope you find this listing informative and helpful!
Description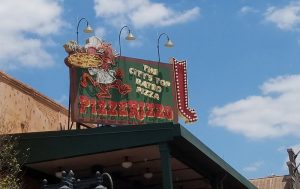 PizzeRizzo is a quick-service restaurant located at Disney's Hollywood Studios theme park at Walt Disney World. The restaurant is designed to resemble a New York City-style pizza parlor and is owned and operated by the Muppets character Rizzo the Rat.
The menu at PizzeRizzo features a variety of pizza options, including cheese, pepperoni, and vegetable. There are also salads, sandwiches, and desserts available. Some of the most popular dishes include the Meat Lovers Pizza, the Caesar Salad with Chicken, and the Cannoli for dessert.
PizzeRizzo features a colorful and whimsical design with decor inspired by the Muppets characters. The restaurant is open for lunch and dinner and accepts both cash and credit cards. It is a popular dining destination for families visiting Hollywood Studios and is located in the Grand Avenue area, near the park's Muppet-themed attractions.
---
Important Details
---
Reviews
---