Here is everything you need to know about the amazing Disney movie Muppets Most Wanted  including casting, reviews, fun facts and more. I hope you find this listing informative and helpful!
Muppets Most Wanted  Description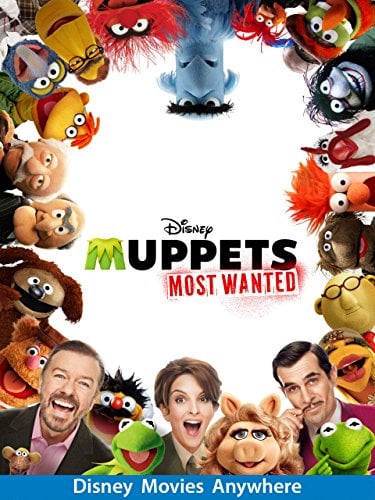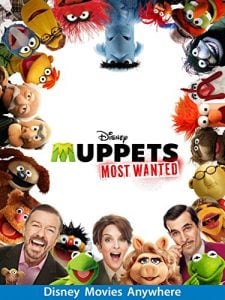 Two Frogs! One Pig! Intrigue! Music! Mayhem! Muppets! In Muppets Most Wanted, there's plenty of fun for the whole family as Kermit the Frog, Miss Piggy, Animal and the entire Muppets gang head out on a world tour. But mayhem follows the Muppets, as they find themselves unwittingly entangled in an international crime caper. Now Kermit is behind bars at the mercy of prison warden Nadya (Tina Fey), and the World's Number One Criminal, Constantine—a dead ringer for Kermit—has taken his place. As Constantine and his dastardly sidekick Dominic (Ricky Gervais) plot the robbery of the century, they are pursued by Sam Eagle and Interpol agent Jean Pierre Napoleon (Ty Burrell). Will Constantine get away with his nefarious scheme? Will Kermit escape in time to save the day?
---
Muppets Most Wanted  Cast:
Ricky Gervais: Dominic Badguy/The Lemur
Ty Burrell: Jean Pierre Napoleon
Tina Fey: Nadya
Steve Whitmire: Kermit the Frog, Foo-Foo, Statler, Beaker, Lips, Rizzo the Rat, Link Hogthrob and the Newsman
Eric Jacobson: Miss Piggy, Fozzie Bear, Sam Eagle and Animal
Dave Goelz: the Great Gonzo, Dr. Bunsen Honeydew, Zoot, Beauregard and Waldorf
Bill Barretta: Pepé the King Prawn, Rowlf the Dog, Dr. Teeth, the Swedish Chef, Bobo the Bear, Big Mean Carl, Baby Boss, Carlo Flamingo and Leprechaun Security Guard
David Rudman: Scooter, Janice, Miss Poogy, Nigel, Bobby Benson and Wayne
Matt Vogel: Constantine, Floyd Pepper, Sweetums, Pops, Robin the Frog, Lew Zealand, Crazy Harry, '80s Robot, Camilla the Chicken and Uncle Deadly
Peter Linz: Walter and Manolo Flamingo
Louise Gold: Annie Sue
---
Muppets Most Wanted  Crew:
Director: James Bobin
Producer: David Hoberman and Todd Lieberman
Music: Christophe Beck
---
Muppets Most Wanted  Details
Muppets Most Wanted  Trailer:
---