Here is everything you need to know about Walt Disney World's Hollywood Studios' Muppet Vision 3D show including history, fun facts, photos and more. I hope you find this listing informative and helpful!
Muppet Vision 3D | Disney World Description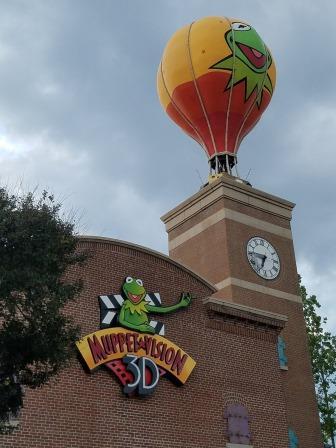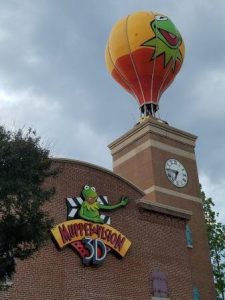 Experience the magic of the Muppets during a hilarious, eye-popping film and live-action extravaganza.
Join Kermit, Miss Piggy and the entire Muppets gang for a spectacular presentation in 3D.
Step right up into an expansive soundstage area filled with kooky movie-making props—and enter the wild and crazy world of the Muppets! On monitors overhead, watch a madcap 12-minute pre-show video starring Gonzo, Rizzo the Rat, Scooter and many more of your Muppet friends as they frantically prepare for the big show.
After receiving 3D glasses, saunter into a lushly appointed 584-seat theater—designed to look like the Muppet Theater from the classic television series, The Muppet Show—and take a seat before the lights dim.
Meet the Muppets – In 3D!
The curtain rises to reveal Kermit, Miss Piggy and the entire Muppets troupe onscreen in startling 3D, as they invite you on a zany tour of Muppet Labs for a demonstration of their newest, high-tech film process, Muppet*Vision 3D. Things quickly get out of hand, though, during a presentation with Dr. Bunsen Honeydew and Beaker, and the result is a seemingly endless string of disastrous—yet hysterical—comic events.
With hilarious musical numbers, surprising in-theater effects plus the world's first computer-generated Muppet, Waldo C. Graphic, this three-dimensional spectacular puts you in the center of all the zany Muppets antics. It's a show every member of your family is sure to love!
In-House Effects
In addition to the 3D film, the show includes Audio-Animatronics characters and 4D special effects that literally bring the house down around you. And don't be surprised if child-friendly pranks, like light splashes of water, further immerse you in the Muppets' wacky world.
---
Muppet Vision 3D | Disney World Fun Facts
Number of people that the Muppet Vision theater holds: 564
Show length: 15 minutes
The show is actually really a 4D show rather than just a 3D movie.
---
Muppet Vision 3D | Disney World Details