Here is everything you need to know about Walt Disney World's Magic Kingdom's extinct The Muppets Present…Great Moments in American History attraction including history, fun facts, photos and more. I hope you find this listing informative and helpful!
Description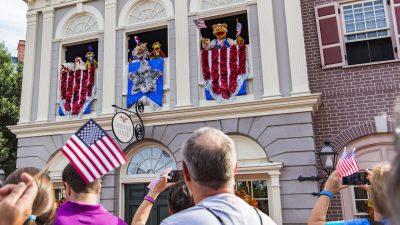 "The Muppets Present… Great Moments in American History" was a live show that took place in Liberty Square at the Magic Kingdom in Walt Disney World. The show combined the humor and charm of the Muppets with educational and entertaining storytelling about important moments in American history.
The show was typically performed on the second-story windows of the Heritage House in Liberty Square. It featured Muppet characters like Kermit the Frog, Miss Piggy, Fozzie Bear, Gonzo, and Sam Eagle. These characters would reenact key historical events, adding their own humorous and whimsical twists to the stories.
Two of the most famous segments from the show were "The Midnight Ride of Paul Revere" and "The Declaration of Independence." These segments combined humor with historical accuracy, making it an engaging and educational experience for audiences of all ages.
---
Important Details
Experience:
---