Here is everything you need to know about Walt Disney World's Animal Kingdom park's Tree of Life attraction including history, fun facts, photos and more. I hope you find this listing informative and helpful!
Tree of Life | Disney World Description
Celebrating all living creatures, the Tree of Life is the iconic centerpiece and the symbol of Disney's Animal Kingdom park.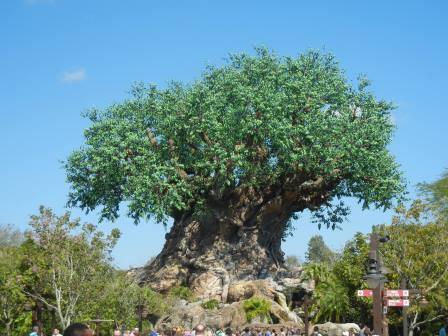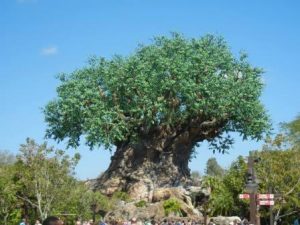 A Swirling Tapestry of Animals
Behold the breathtaking artistry of a sculpted tree that wordlessly expresses the intricate balance of nature. Located on Discovery Island, the Tree of Life vividly commemorates all living things—and the place they share—in the great Circle of Life.
A theater is housed inside the Tree of Life root system where It's Tough to be a Bug! is performed. This 8-minute, 3D movie and multimedia show stars Flik and Hopper from the Disney•Pixar film A Bug's Life—along with a supporting cast of insects and arachnids who provide a surprising glimpse into the animal kingdom.
---
Tree of Life | Disney World Fun Facts
At an impressive 145 feet tall and 50 feet wide at its base, this structure is home to over 300 meticulously detailed animal carvings throughout its massive trunk, gnarling roots and outstretched branches—invoking the diversity, beauty and interconnected nature of earth's many creatures.
Animals that appear to magically emerge from the tree include:
Lion
Deer
Eagle
Monkey
Pelican
Rhinoceros
Hippopotamus
Bear
Tortoise
Lemur
Scorpion
Dolphin
For a close-up view of the animal carvings, take a stroll along the picturesque Discovery Island Trails, which encircle the great tree. You may even discover a famous mouse hiding among its branches!
The Tree was actually built with an oil platform at its center.
The theater inside can hold up to 428 people.
The nighttime projection map show "Tree of Life Awakenings" began in 2016.
The four awakenings shows are named: Journey, Rendezvous, Gift Giver and Disney Medley.
---
Tree of Life | Disney World Details
---