Here is everything you need to know about Walt Disney World's Animal Kingdom park's Tree of Life attraction including history, fun facts, photos and more. I hope you find this listing informative and helpful!
Tree of Life | Disney World Description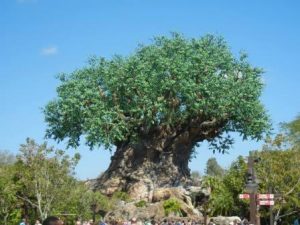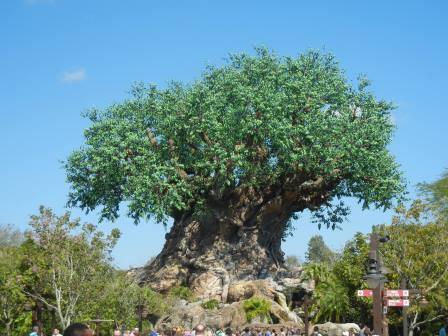 The Tree of Life is an iconic and magnificent centerpiece at Disney's Animal Kingdom, one of the four theme parks at Walt Disney World Resort in Florida. Standing at an impressive 145 feet tall and 50 feet wide, the tree is an engineering marvel, featuring intricate carvings of over 300 animal species on its massive trunk and branches.
Located on Discovery Island, the Tree of Life serves as the symbolic heart of Disney's Animal Kingdom, representing the interconnectedness of all living creatures and the celebration of the natural world. As guests approach the tree, they are awed by its grandeur and attention to detail, with each animal carving telling a unique story of nature's diversity and beauty.
The Tree of Life is not only a breathtaking sight to behold, but it also serves as the backdrop for one of the park's most popular attractions, "It's Tough to be a Bug!" This 3D show takes guests on a comical and immersive journey through the world of bugs, bringing the tree's carvings to life in a captivating and entertaining way.
During the evening hours, the Tree of Life transforms into a mesmerizing spectacle through the use of projection mapping technology. The "Tree of Life Awakens" projection show projects stunning animations and colorful imagery onto the tree's surface, bringing it to life with enchanting stories of wildlife and the circle of life. It is a breathtaking sight that captivates guests and adds a touch of magic to the nighttime ambiance of Disney's Animal Kingdom.
Surrounding the Tree of Life is an enchanting garden area, providing guests with a tranquil setting to relax and take in the beauty of the tree and its surroundings. There are also various animal exhibits and trails nearby, making it a perfect spot for exploration and discovery.
The Tree of Life is not just a remarkable feat of Disney Imagineering; it symbolizes the park's dedication to wildlife conservation and education. It serves as a reminder of the importance of preserving and appreciating the natural world, inspiring guests to connect with nature and take action to protect the planet and its incredible biodiversity.
With its awe-inspiring beauty, rich storytelling, and profound meaning, the Tree of Life stands as a true testament to the magic of Disney's Animal Kingdom and its mission to celebrate the wonders of nature and the spirit of adventure in all who visit.
---
Tree of Life | Disney World Fun Facts
At an impressive 145 feet tall and 50 feet wide at its base, this structure is home to over 300 meticulously detailed animal carvings throughout its massive trunk, gnarling roots and outstretched branches—invoking the diversity, beauty and interconnected nature of earth's many creatures.
Animals that appear to magically emerge from the tree include:
Lion
Deer
Eagle
Monkey
Pelican
Rhinoceros
Hippopotamus
Bear
Tortoise
Lemur
Scorpion
Dolphin
For a close-up view of the animal carvings, take a stroll along the picturesque Discovery Island Trails, which encircle the great tree. You may even discover a famous mouse hiding among its branches!
The Tree was actually built with an oil platform at its center.
The theater inside can hold up to 428 people.
The nighttime projection map show "Tree of Life Awakenings" began in 2016.
The four awakenings shows are named: Journey, Rendezvous, Gift Giver and Disney Medley.
---
Tree of Life | Disney World Details