Here is everything you need to know about the amazing Pixar movie Finding Dory including casting, reviews, fun facts and more. I hope you find this listing informative and helpful!
Description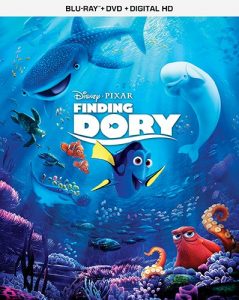 "Finding Dory" is a 2016 computer-animated adventure film produced by Pixar Animation Studios and released by Walt Disney Pictures. It serves as a sequel to the 2003 film "Finding Nemo" and was directed by Andrew Stanton, who also directed the first film.
The story revolves around Dory, a regal blue tang fish with short-term memory loss, who was a supporting character in "Finding Nemo." In "Finding Dory," she becomes the central character and sets off on a journey to find her long-lost family. While living with Marlin and Nemo, Dory suddenly recalls fragments of her past and becomes determined to reunite with her parents, whom she had been separated from at a young age.
With the help of her friends, Marlin and Nemo, Dory embarks on an incredible adventure across the ocean to California's Marine Life Institute. Along the way, she encounters new friends and faces challenges that test her memory and determination. Throughout the film, Dory's perseverance and the power of friendship are highlighted, emphasizing the importance of family and self-belief.
"Finding Dory" received positive reviews from both critics and audiences, praising its touching story, humor, and stunning animation. The film's themes of family, identity, and overcoming challenges resonated with viewers of all ages. Ellen DeGeneres reprised her role as the voice of Dory, while Albert Brooks returned as the voice of Marlin.
The film was a commercial success, grossing over a billion dollars worldwide, making it the highest-grossing animated film of 2016. "Finding Dory" reaffirmed the popularity and impact of the "Finding Nemo" franchise and became a beloved addition to Pixar's lineup of heartwarming animated films.
---
Finding Dory Fun Facts
Finding Dory was the second Pixar movie to gross more than $1 billion.
This was the 3rd biggest movie of 2016.
This was the biggest animated film of 2016.
The part of Nemo was played by a different actor in Finding Dory because the original Finding Nemo actor Alexander Gould's voice got too deep.
Finding Dory was preceded by the Pixar short "Piper" in theaters.
---
Cast:
Ellen DeGeneres: Dory
Sloane Murray: young Dory
Lucia Geddes: Teen Dory
Albert Brooks: Marlin
Hayden Rolence: Nemo
Ed O'Neill: Hank
Kaitlin Olson: Destiny
Ty Burrell: Bailey
Diane Keaton: Jenny
Eugene Levy: Charlie
Idris Elba: Fluke
Dominic West: Rudder
Bob Peterson: Mr. Ray
Andrew Stanton: Crush
Sigourney Weaver: herself
Bill Hader: Stan
Kate McKinnon: Stan's wife fish
Alexander Gould: Passenger Carl
Torbin Xan Bullock: Gerald
Katherine Ringgold: Chickenfish
Bennett Dammann: Squirt
John Ratzenberger: Husband Crab
Angus MacLane: Sunfish
Willem Dafoe: Gill
Brad Garrett: Bloat
Allison Janney: Peach
Austin Pendleton: Gurgle
Stephen Root: Bubbles
Vicki Lewis: Deb
Jerome Ranft: Jacques
---
Crew:
Director: Andrew Stanton
Producer: Lindsey Collins
Screenplay: Andrew Stanton and Victoria Strouse
Music: Thomas Newman
---
Additional Details
---
Finding Dory Trailer:
---