Here is everything you need to know about the amazing Pixar movie Finding Nemo including casting, reviews, fun facts and more. I hope you find this listing informative and helpful!
Description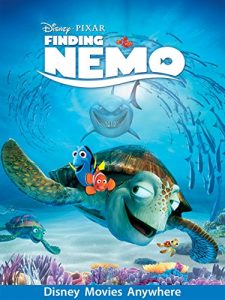 "Finding Nemo" is an animated adventure film produced by Pixar Animation Studios and released by Walt Disney Pictures in 2003. Directed by Andrew Stanton, the movie tells the heartwarming story of a clownfish named Marlin, voiced by Albert Brooks, who embarks on an epic journey to find his missing son, Nemo, voiced by Alexander Gould.
The film begins with Marlin and his wife Coral building a home on a reef to raise their eggs. Tragically, a barracuda attacks, leaving Marlin as the sole survivor with one remaining egg, Nemo. Marlin becomes an overprotective and cautious father, fearful of allowing Nemo to take risks.
When Nemo starts school, he becomes frustrated by his father's constant worries and impulsively ventures into open water, leading to his capture by a scuba diver and placement in a fish tank in a dentist's office. Devastated, Marlin embarks on an adventure to rescue his son, accompanied by a forgetful and optimistic blue tang named Dory, voiced by Ellen DeGeneres.
Throughout the journey, Marlin learns to trust others, face his fears, and appreciate the beauty of the ocean. Meanwhile, Nemo develops a plan to escape from the fish tank with the help of his new friends.
"Finding Nemo" received critical acclaim for its captivating story, stunning underwater animation, and memorable characters. It won the Academy Award for Best Animated Feature and was a massive box office success, becoming the highest-grossing animated film at the time of its release.
The film's success also led to the creation of a sequel, "Finding Dory," released in 2016, which focuses on Dory's own journey to reunite with her long-lost family.
"Finding Nemo" remains a beloved classic in the world of animation, entertaining audiences of all ages with its heartwarming themes of family, friendship, and perseverance. Its impact on popular culture is significant, and characters like Nemo, Dory, and Marlin have become iconic figures in the realm of animated films.
---
Finding Nemo Fun Facts
The movie takes place primarily in the Great Barrier Reef in Australia and showcases the colorful and diverse marine life of the ocean.
"Finding Nemo" features an ensemble cast of voice actors, including Albert Brooks as Marlin, Ellen DeGeneres as Dory, and Alexander Gould as Nemo.
The film's success led to the creation of the "Finding Nemo Submarine Voyage" attraction at Disneyland in California.
"Finding Nemo" was a commercial and critical success, grossing over $940 million worldwide and winning the Academy Award for Best Animated Feature.
The character of Dory, a regal blue tang fish with short-term memory loss, became a fan-favorite and later received her own spin-off film, "Finding Dory" (2016).
The animation team at Pixar developed innovative techniques to create realistic underwater effects, including the use of digital subsurface scattering to accurately portray light passing through water.
The film's success helped raise awareness about the importance of marine conservation, particularly regarding coral reefs and the impact of human activities on the ocean ecosystem.
"Finding Nemo" continues to be celebrated as one of Pixar's most beloved films, with its endearing characters, heartfelt story, and stunning animation leaving a lasting impression on audiences of all ages.
---
Cast:
Albert Brooks: Marlin
Ellen DeGeneres: Dory
Alexander Gould: Nemo
Willem Dafoe: Gill
Brad Garrett: Bloat
Allison Janney: Peach
Stephen Root: Bubbles
Austin Pendleton: Gurgle
Vicki Lewis: Deb and Flo
Joe Ranft: Jacques
Geoffrey Rush: Nigel
Andrew Stanton: Crush
Elizabeth Perkins: Coral
Nicholas Bird: Squirt
Bob Peterson: Mr. Ray
Barry Humphries: Bruce
Eric Bana: Anchor
Bruce Spence: Chum
Bill Hunter: Philip Sherman
LuLu Ebeling: Darla
Jordy Ranft: Tad
Erica Beck: Pearl
Erik Per Sullivan: Sheldon
John Ratzenberger: the school of moonfish
---
Crew:
Director: Andrew Stanton
Producer: Graham Walters
Music: Thomas Newman
---
Additional Details
---
Finding Nemo Trailer:
---