Here is everything you need to know about the amazing Disney movie Meet The Robinsons including casting, reviews, fun facts and more. I hope you find this listing informative and helpful!
Meet The Robinsons Description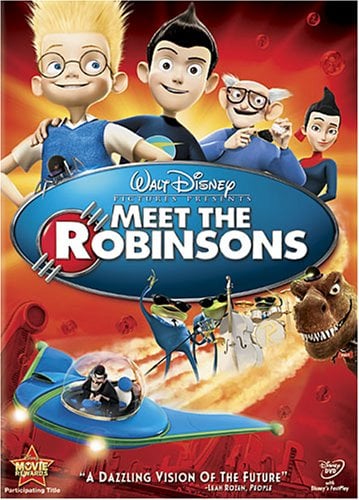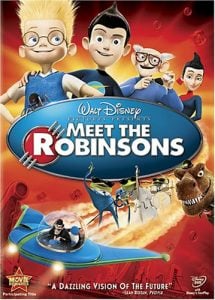 Have the "time" of your life with Disney's fun-filled comedy Meet the Robinsons, a thrilling adventure that takes you to a whole new world full of imagination and surprises. Join a brilliant young inventor named Lewis as he sets off on a time-traveling journey to find the family he never knew. In the fantastical world of 2037, hip-hoppin' frogs and dogs that wear glasses are as common as talking dinosaurs. In an amazing twist, Lewis discovers that the fate of the future rests in his hands, but he can't save it alone — he'll need every bit of help he can get from the wonderfully wacky Robinson family, who help him learn to keep moving forward and never stop believing in himself. It's an exciting trip your whole family will enjoy!
---
Meet The Robinsons Fun Facts
The film is loosely based on the children's book "A Day with Wilbur Robinson" by William Joyce.
Meet the Robinsons was released in both 2D and Disney Digital 3D formats and was the first film from Disney to be released exclusively in Disney Digital 3D.
The film tells the story of a young orphan named Lewis who travels to the future in order to find his family.
Meet the Robinsons was directed by Stephen J. Anderson, who also worked on the films Tarzan and The Emperor's New Groove.
The film features a voice cast that includes Tom Selleck, Angela Bassett, Laurie Metcalf, Adam West, and Tom Kenny.
The film's soundtrack features songs by artists such as Rufus Wainwright and The All-American Rejects.
The film's message of perseverance and innovation is highlighted by its famous quote "Keep moving forward," which is also attributed to Walt Disney himself.
The film was followed by a short film called "Aunt Bill's Marshmallow Fiasco" which was included on the DVD and Blu-ray release of the film.
---
Meet The Robinsons Crew:
Director: Stephen  Anderson
Producer: Dorothy McKim
Music: Danny Elfman
---
Meet The Robinsons Details
Meet The Robinsons Trailer:
---