Here is everything you need to know about the amazing Disney movie Pocahontas including casting, reviews, fun facts and more. I hope you find this listing informative and helpful!
Description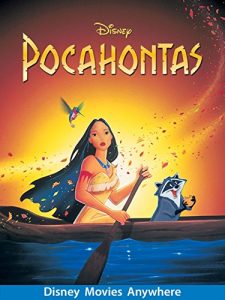 Disney's "Pocahontas" is an animated musical film released in 1995. It is the 33rd animated feature film produced by Walt Disney Animation Studios. The movie is loosely based on the historical figure Pocahontas, a Native American woman who played a significant role in the early colonial history of America.
The story is set in the early 17th century when English settlers arrived in the New World. Pocahontas, voiced by Irene Bedard, is the daughter of Chief Powhatan, the leader of the Native American tribe. She is a free-spirited and adventurous young woman who is curious about the world beyond her own tribe.
Pocahontas meets Captain John Smith, an English explorer and leader of the settlers. Their initial encounters are marked by misunderstandings and cultural differences, but they gradually develop a deep connection and understanding of each other's worlds. The film explores themes of tolerance, respect for nature, and the consequences of colonialism.
However, their budding friendship faces challenges when tensions between the Native Americans and the English settlers escalate. The settlers, led by the greedy Governor Ratcliffe, seek to exploit the land and its resources, leading to conflict with the Native Americans.
As the situation worsens, Pocahontas must find a way to bridge the gap between the two cultures and prevent a devastating war. She ultimately faces a difficult choice that will impact her people and the settlers.
"Pocahontas" received critical acclaim for its beautiful animation, compelling characters, and the powerful themes it tackled. The film also features an iconic soundtrack, with music composed by Alan Menken and lyrics by Stephen Schwartz. The song "Colors of the Wind" won an Academy Award for Best Original Song.
---
Pocahontas Fun Facts
"Pocahontas" was the first Disney animated feature to be based on a true story.
The film was originally going to be a much more historically accurate and serious drama, but was reworked into a musical with a more romantic storyline.
The character of Pocahontas was originally designed to be older and more historically accurate, but the animators decided to make her younger and more beautiful to appeal to audiences.
The film features songs by legendary composer Alan Menken and lyricist Stephen Schwartz, who also collaborated on "The Hunchback of Notre Dame."
The film's villain, Governor Ratcliffe, was based on the real-life figure of Captain John Smith's sponsor, Edward Maria Wingfield.
The film's soundtrack features the Academy Award-winning song "Colors of the Wind," which was performed by Vanessa Williams and written by Menken and Schwartz.
---
Crew:
Directors: Mike Gabriel and Eric Goldberg
Producer: Jim Pentecost
Music: Alan Menken
---
Additional Details
---
Pocahontas Trailer:
---