Frozen 2 (2019 Movie)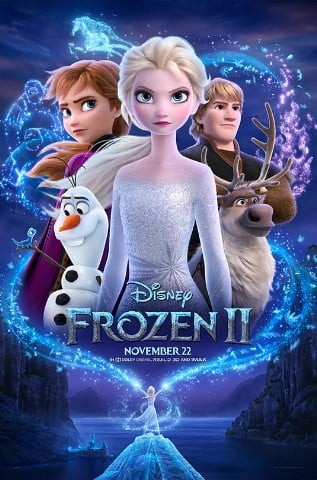 Here is a comprehensive rundown of everything you need to know about Disney's blockbuster hit Frozen 2.
Plot:
Join the adventures of Elsa, Anna, Kristoff and Olaf in their quest to save Arendelle with this 2-movie collection. In Disney's "Frozen," Anna and Kristoff battle the elements in a race to save the kingdom. Then, Elsa faces a dangerous journey into the enchanted forests and dark seas beyond Arendelle in search of truths about the past in "Frozen 2."
Rating and Release Date:
Frozen 2 is rated PG and was released on November 22, 2019.
Cast:
Kristen Bell: Anna
Idina Menzel: Elsa
Josh Gad: Olaf
Jonathan Groff: Kristoff
Santino Fontana: Hans
Evan Rachel Wood: the Queen (Iduna)
Sterling K Brown: Lieutenant Mattias
Jason Ritter: Ryder
Martha Plimpton: Yelana
Alfred Molina: King Agnarr
Rachel Matthews: Honeymaren
Crew:
Directed by: Jennifer Lee, Chris Buck
Produced by: Peter Del Vecho
Screenplay by: Jennifer Lee and Allison Schroeder
Music: Christophe Beck
A Bit About the New Characters:
Lieutenant Destin Mattias:
For years, Lieutenant Destin Mattias loyally protected his homeland of Arendelle, against their enemy, the Northuldra. But, in doing so, he became trapped in the enchanted forest, where he's been for more than 30 years. He's never forgotten his sworn duty to Arendelle, but the arrival of Queen Elsa and discovery that she has magical powers is just the first of many challenges to his long-held beliefs. (source)
Bruni:
Curious and cute, this salamander inhabits the Enchanted Forest. Though shy at first, Bruni can't help but be drawn to Elsa's icy magic and enjoys the cool snowflake treats she creates. (source)
Honeymaren:
A member of the Northuldra, Honeymaren is a true free spirit and wants nothing more than to bring peace to the enchanted forest. She is bold and brave, with a reverence for the magic of nature. (source)
Ryder:
Eager and fun, Honeymaren's brother Ryder embraces life with optimism. Ryder's love of reindeer might just rival Kristoff's – but unlike Kristoff, Ryder has never roamed the great plains outside of the Enchanted Forest. He longs to embrace the world and venture beyond the magical mist. (source)
Disney Character(s) in this Post:
Anna (Frozen)
Elsa (Frozen)
Honeymaren (Frozen)
King Agnarr (Frozen)
Kristoff (Frozen)
Lieutenant Mattias (Frozen)
Olaf (Frozen)
Ryder (Frozen)
Sven (Frozen)
the Queen Iduna (Frozen)
Yelana (Frozen)
---

Related News:

---

Related Articles:

---