Here is everything you need to know about the amazing Disney movie Frozen including casting, reviews, fun facts and more. I hope you find this listing informative and helpful!
Frozen Description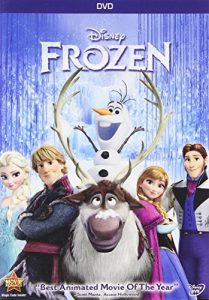 Frozen is a highly popular animated musical fantasy film released by Walt Disney Animation Studios in 2013. The film was inspired by Hans Christian Andersen's fairy tale "The Snow Queen" and follows the story of two royal sisters, Elsa and Anna, in the kingdom of Arendelle.
Elsa possesses magical ice powers, but she struggles to control them and fears hurting others. After accidentally revealing her powers during her coronation, she flees to the mountains, leaving Arendelle trapped in an eternal winter. Anna, accompanied by a rugged iceman named Kristoff, his loyal reindeer Sven, and the lovable snowman Olaf, embarks on a journey to find her sister and bring back summer to their kingdom.
Frozen is known for its catchy musical numbers, including the widely popular "Let It Go," performed by Elsa, which became a cultural phenomenon. The film emphasizes the bond between the two sisters and explores themes of love, self-acceptance, and the power of true love.
The film received critical acclaim for its animation, storytelling, and memorable characters. It won two Academy Awards, including Best Animated Feature, and became one of the highest-grossing animated films of all time. Due to its immense success, the film spawned a sequel, Frozen II, released in 2019, and various spin-offs, merchandise, and a Broadway musical adaptation.
Frozen has captivated audiences of all ages with its heartfelt story, stunning animation, and beloved characters, solidifying its place as a beloved Disney film and a cultural phenomenon.
---
Frozen Fun Facts
Frozen's Origin: "The Snow Queen" by Hans Christian Andersen
Frozen the Musical Debut: August 2017
Frozen on Broadway Debut: March 2018
Frozen could have been one of the first Disney feature films: Walt Disney was interested in an animated movie version of Hans Christian Andersen's fairy tales (including "The Snow Queen" as early as 1940.
Elsa was originally a villain in early drafts of Frozen and was not Anna's sister.
The land of Arendelle is modeled after 19th century Norway.
The voice of Oaken (the shop keeper), Chris Williams, is also a writer/director for Moana and Bolt and also directed Big Hero 6 and a number of other movies.
Jennifer Lee was the first woman to direct a Disney animated feature film.
Rapunzel and Flynn Rider make a cameo in Elsa's coronation scene.
Additional Frozen Movies and Shorts:
Frozen Movie Budget: $150 million
Frozen's All-Time Movie Rankings:

Highest grossing animated films of all time (#1)
Highest grossing films of all time (#12)
Highest grossing films of 2013 (#1)

Frozen is the all time best-selling Blu Ray in the US.
Elsa has 420,000 strands of hair, which is 4x the average human being.
Number of languages Frozen was made available in: 41
Frozen toys were the number one girls toy for the holidays in 2014 (beating out longtime #1 Barbie)
---
Frozen Crew:
Directors: Chris Buck and Jennifer Lee
Producer: Peter Del Vecho
Writer: Jennifer Lee
Music: Kristen Anderson-Lopez and Robert Lopez
---
Frozen Details
Frozen Trailer:
---