Here is everything you need to know about Walt Disney World's Epcot's Frozen Ever After ride including history, fun facts, photos and more. I hope you find this listing informative and helpful!
Description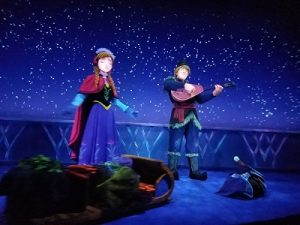 Frozen Ever After is a popular and enchanting boat ride attraction located in the Norway Pavilion at EPCOT, part of Walt Disney World Resort in Florida. The attraction opened on June 21, 2016, and quickly became a must-visit experience for guests of all ages.
Frozen Ever After is based on the beloved Disney animated film "Frozen" and takes guests on a magical journey through the kingdom of Arendelle. The attraction's storyline follows the main characters, Anna, Elsa, Olaf, Kristoff, and Sven, as they prepare for a special winter celebration known as "The Winter in Summer Festival."
As guests board their boats, they are transported through various scenes featuring iconic moments from the film, brought to life with stunning audio-animatronics and state-of-the-art special effects. Highlights of the attraction include:
Meeting Anna and Elsa: Guests get to see Anna and Elsa in a heartwarming scene as they sing "For the First Time in Forever" inside Elsa's ice palace.

Trolls' Hideaway: Journey through the magical world of the trolls, where they sing "Fixer Upper" as they share their wisdom and humor.

Marshmallow and Snowgies: Encounter Marshmallow, the giant snow monster, and his adorable Snowgie offspring, who add a touch of mischief to the adventure.

"Let It Go" Finale: The journey culminates in a breathtaking moment where Elsa unleashes her powers and sings "Let It Go" while surrounded by swirling snow and ice.
The attraction's captivating music, dazzling effects, and the heartwarming story of love, family, and self-discovery make Frozen Ever After a delightful experience for fans of the film and those new to the story.
---
Fun Facts
There are many elements of the ride that were re-used from the Maelstrom including the vehicles and some parts of the track.
The ride lasts roughly 5 minutes.
---
Important Details
Experience:
---