Here is everything you need to know about Walt Disney World's Epcot's Frozen Ever After ride including history, fun facts, photos and more. I hope you find this listing informative and helpful!
Frozen Ever After | Disney World Description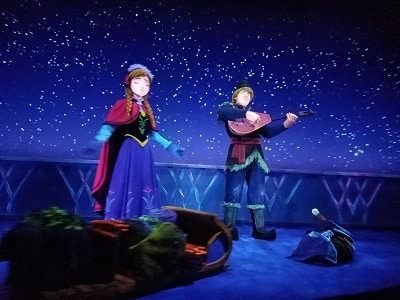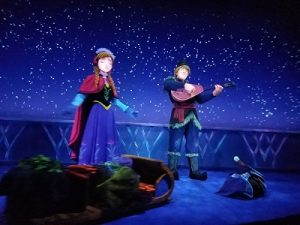 Hoist the sails in Arendelle aboard an ancient Norwegian vessel as you set out into the wondrous wintery world of Frozen! Come and celebrate a very special "Summer Snow Day" with Queen Elsa, Anna, Olaf, Kristoff and friends. Welcome to Frozen Ever After, an unforgettable adventure where you'll be whisked away for an on-the-water journey through Arendelle—one set to the tune of your favorite songs from Frozen!
Let It Go All Over Again
The adventure begins on the docks of Arendelle, as seen in the classic animated film. After finding a seat aboard your boat, feel an Olaf-inspired smile frost across your face when the lapping waters take you right into the frozen willow forest.
Soon, you'll be rubbing shoulders with some "boulders"—a.k.a. Kristoff's family from Troll Valley—before bracing for the cold. High up in the icy blue world of the North Mountain, Queen Elsa's enchanting ice palace awaits! Behold the wonder… and keep an eye out for a few more Frozen friends too.
Finally, hang on tight as you glide back down into the Bay of Arendelle and conclude this "Summer Snow Day" celebration in style—complete with many of your favorite Frozen tunes!
---
Frozen Ever After | Disney World Fun Facts
There are many elements of the ride that were re-used from the Maelstrom including the vehicles and some parts of the track.
The ride lasts roughly 5 minutes.
---
Frozen Ever After | Disney World Details
Frozen Ever After | Disney World Experience:
---