The Sword And The Rose (1953 Movie)
Here is everything you need to know about the amazing Disney movie The Sword And The Rose including casting, reviews, fun facts and more. I hope you find this listing informative and helpful!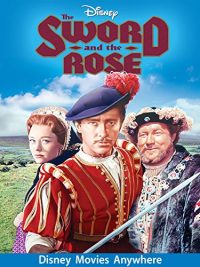 The Sword And The Rose Plot:
In Disney's classic film The Sword And The Rose, at the royal court of Henry VIII, the King has decreed that his sister, coquettish Princess Mary Tudor, should wed the elderly Louis XII of France. But Mary falls madly in love with handsome, dashing Charles Brandon, an ambitious young man bound for America. The headstrong Mary defies her brother and leaves with Charles' party disguised as a boy. Pursued and captured by the King's men, Charles is imprisoned in the Tower and Mary is sent to France. Against all odds, Charles must mount a daring escape and rescue Mary, leading to the spectacular climax pitting him against the villainous Duke of Buckingham in a chivalrous duel to the death.