Wild Hogs (Touchstone Movie)
Here is everything you need to know about the amazing Touchstone movie Wild Hogs including casting, reviews, fun facts and more. I hope you find this listing informative and helpful!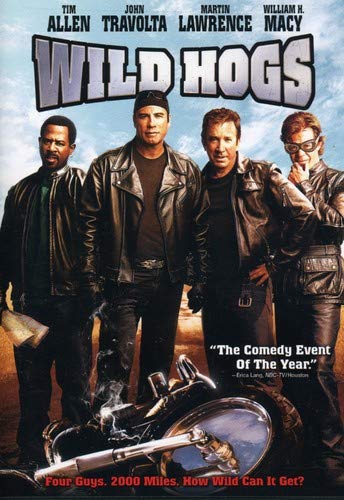 Wild Hogs Details:
Tim Allen, John Travolta, Martin Lawrence and William H. Macy star in WILD HOGS, the hysterically funny comedy about four weekend-warrior friends who decide to rev up their ho-hum suburban lives with a cross-country motorcycle adventure. They don their leathers, fire up their hogs and throw caution and their cell phones to the wind as they hit the open highway. But a lot can happen on the road to nowhere, including a run-in with the bad-to-the-bone Del Fuegos, a real biker gang who don't take kindly to the wannabes. Filled with hilarious misadventures, screwball situations and madcap mayhem, this laugh-out-loud comedy is a movie your whole family will go hog wild over.
Key Cast:
Tim Allen: Doug Madsen
John Travolta: Woody Stevens
Martin Lawrence: Bobby Davis
William H. Macy: Dudley Frank
Ray Liotta: Jack
Marisa Tomei: Maggie
Kevin Durand: Red
M. C. Gainey: Murdock
Jill Hennessy: Kelly Madsen
Dominic Janes: Billy Madsen
Tichina Arnold: Karen Davis
Stephen Tobolowsky: Sheriff Charley
Jason Sklar: Deputy Earl Dooble
Randy Sklar: Deputy Buck Dooble
John C. McGinley: Highway Patrolman
Peter Fonda: Damien Blade
Key Crew:
Director: Walt Becker
Producers: Todd Lieberman, Brian Robbins and Michael Tollin
Writer: Brad Copeland
---
Related Articles:
---