Here is everything you need to know about Walt Disney World's Magic Kingdom's extinct ExtraTERRORestrial Alien Encounter attraction including history, fun facts, photos and more. I hope you find this listing informative and helpful!
Description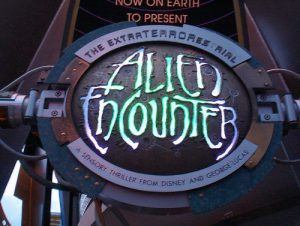 ExtraTERRORestrial Alien Encounter was a former attraction at Magic Kingdom park in Walt Disney World Resort, Florida. It was a thrilling and immersive experience that combined elements of science fiction, horror, and advanced audio-animatronics technology. The attraction was located in Tomorrowland and opened on June 20, 1995.
The storyline of ExtraTERRORestrial Alien Encounter involved guests being invited to an intergalactic technology demonstration hosted by the fictional company "X-S Tech." The company claimed to have developed a breakthrough teleportation technology that could transport guests to another planet.
As the demonstration began, guests found themselves seated in a circular theater equipped with advanced sound and lighting effects. The demonstration soon took an unexpected turn when a dangerous alien creature known as "Experiment 626," also known as Stitch (before his appearance in "Lilo & Stitch"), accidentally teleported into the theater.
The alien creature caused chaos and mayhem, leading to a thrilling and suspenseful experience for guests. The theater was filled with darkness, eerie sounds, and moments of suspense as the alien creature roamed freely and interacted with the audience.
While ExtraTERRORestrial Alien Encounter received praise for its innovative use of technology and immersive storytelling, it also garnered criticism for being too intense and frightening for younger guests. As a result, the attraction closed on October 12, 2003, and was replaced by "Stitch's Great Escape!", a milder version of the original experience with a more family-friendly storyline featuring the mischievous alien, Stitch.
---
Fun Facts
The show was said to be inspired by the Alien movie franchise.
The show was retooled after roughly a month due to the original show's intensity.
This show was a headlining addition to Tomorrowland in the land's major mid-90's overhaul.
The ride's voice cast included: Phil Hartman, Tim Curry, Tyra Banks, Jeffrey Jones, Kathy Najimy and Kevin Pollak.
---
Important Details
Experience:
---
---