Here is everything you need to know about the amazing Mickey's Soundsational Parade attraction at Disneyland including history, reviews, fun facts, photos and more. I hope you find this listing informative and helpful!
Mickey's Soundsational Parade | Disneyland Description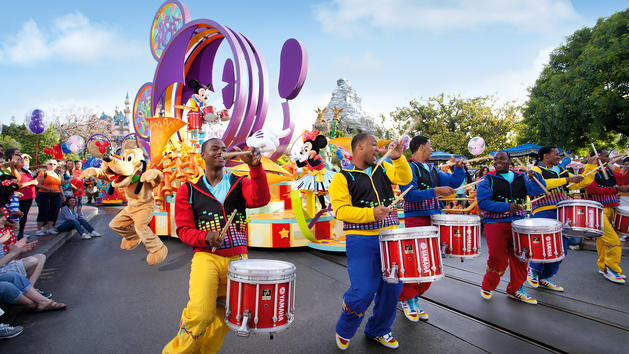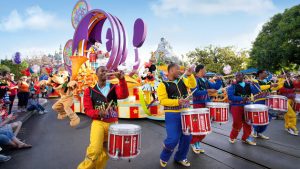 Mickey's Soundsational Parade is a fun street show and parade featuring Mickey Mouse at Disneyland Park. Here are the details:
Fantastic Floats
Watch as beloved melodies from classic Disney movies come alive through music, Disney Characters and whimsical
floats.
Music in Motion
Rhythmic beats hit Main Street, U.S.A at Disneyland Park!
Mickey strikes up the band and leads the way with a syncopated drum line. Colorfully costumed musicians, energetic dancers and many of Mickey's friends follow to amplify the fun with twinkling cymbals, steel drums and bold percussion.
Each fantastic float has its own unique musical style, like crowd-pleasing Bollywood and South American rhythms.
Best of all, you're encouraged to join the celebration for a giant jam session!
Mickey leads this rockin' parade, followed by many of his friends, including some royal Disney Princesses.
Joining Mickey are Minnie, Goofy, Chip 'n' Dale, Pluto and Pals from popular Disney films, including:
The Little Mermaid
The Three Caballeros
The Lion King
The Princess and the Frog
Aladdin
Peter Pan
Mary Poppins
Don't miss the medley of Royal Princess Romantic Melodies, where these 5 Disney Princesses make an appearance: Snow White, Cinderella, Aurora, Belle and even Rapunzel.
---
Mickey's Soundsational Parade | Disneyland Details
Mickey's Soundsational Parade | Disneyland Experience:
---