Here is everything you need to know about Walt Disney World's Magic Kingdom's Seven Dwarfs Mine Train ride including history, fun facts, photos and more. I hope you find this listing informative and helpful!
Seven Dwarfs Mine Train Description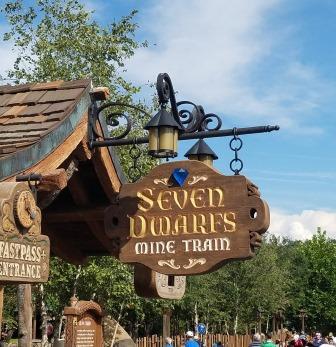 Whistle a cheery "Heigh-Ho" and relive some of the magic from Snow White and the Seven Dwarfs aboard a speeding mine cart in the Magic Kingdom's Seven Dwarfs Mine Train.
Follow a winding path through the Enchanted Forest and make your way inside the rocky tunnel of an age-old mountain. Hop into a rustic mine train—hewn together with wood and metal bands—and wind your way up a steep hill.
Fun, In Full Swing
At the summit, feel the wind race across your face as your cart navigates hairpin turns around the mountain, through a verdant countryside and deep into a mine shaft—your cart teetering back and forth during the ride. Soon, the dark begins to sparkle as you happen upon a familiar site: the Seven Dwarfs hard at work, whistling and singing while collecting diamonds, rubies and other colorful jewels.
Careen into the cavern and climb skyward through an opening to the outside world. At the top, soak up an inspiring view of Fantasyland before racing back down to the foot of the mountain. Moments later, pass behind a waterfall and peek inside a cozy cottage where Snow White and her Dwarf friends dance in merriment, just as your rocking ride comes to an end.
Related Songs:
---
Seven Dwarfs Mine Train Fun Facts
The ride's top ride speed is 34 mph
There was once a fire on the ride due to embers from fireworks falling on it.
The largest ride drop is 39 feet.
Many of the characters seen in the ride came from the Snow White's Scary Adventures ride including some of the animatronics in the final scene as well as the vultures at the beginning.
---
Seven Dwarfs Mine Train Details
---
---