Here is everything you need to know about Walt Disney World's Magic Kingdom's Seven Dwarfs Mine Train ride including history, fun facts, photos and more. I hope you find this listing informative and helpful!
Description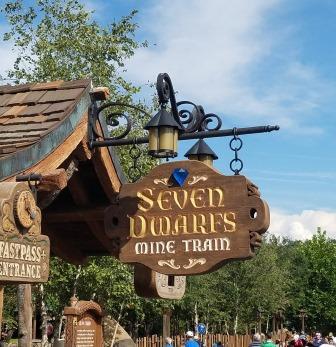 The Seven Dwarfs Mine Train is a roller coaster attraction located in the Fantasyland area of Magic Kingdom at Walt Disney World. The ride is themed around the story of Snow White and the Seven Dwarfs and takes guests on a journey through the dwarfs' diamond mine aboard mine carts that sway back and forth.
The ride features both indoor and outdoor sections, with the indoor portion taking guests through the mine itself, where they can see animatronic dwarfs at work mining for gems. The outdoor section features a series of drops and turns, providing a thrilling coaster experience while still being family-friendly.
The Seven Dwarfs Mine Train also utilizes unique technology, with the mine carts swinging side to side in a way that simulates the feeling of mining cars traveling along uneven tracks. The ride also features an original musical score and special effects, including projections of the dwarfs and other characters from the film.
Overall, the Seven Dwarfs Mine Train is a fun and immersive attraction that combines classic Disney storytelling with state-of-the-art technology and coaster thrills.
---
Fun Facts
The ride's top ride speed is 34 mph
There was once a fire on the ride due to embers from fireworks falling on it.
The largest ride drop is 39 feet.
Many of the characters seen in the ride came from the Snow White's Scary Adventures ride including some of the animatronics in the final scene as well as the vultures at the beginning.
---
Important Details
---