Here is everything you need to know about Walt Disney World's Magic Kingdom's Walt Disney World Railroad ride including history, fun facts, photos and more. I hope you find this listing informative and helpful!
Description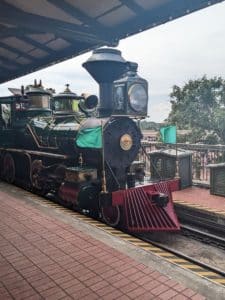 The Walt Disney World Railroad is a classic steam-powered train attraction located within the Magic Kingdom theme park at Walt Disney World Resort. It is a nostalgic and scenic ride that takes guests on a 1.5-mile journey around the park.
The railroad features a narrow-gauge track and operates on a loop that stops at three stations: Main Street, U.S.A., Frontierland, and Fantasyland. The train consists of several vintage-style locomotives, each with its own unique design and name, such as the Walter E. Disney, the Lilly Belle, and the Roy O. Disney.
The Walt Disney World Railroad offers a leisurely and immersive experience, allowing guests to sit back and enjoy the sights and sounds of the park while traveling through different themed lands. As the train makes its way around the track, guests can catch glimpses of iconic attractions, such as Cinderella Castle, Splash Mountain, and Big Thunder Mountain Railroad.
The railroad has been a part of the Magic Kingdom since the park's opening in 1971, and it remains a popular attraction for guests of all ages. The experience evokes a sense of nostalgia and provides a unique perspective on the park's layout and theming.
In addition to its role as a transportation attraction, the Walt Disney World Railroad also offers a narrated tour of the park, providing interesting facts and anecdotes about the various lands and attractions as guests make their journey.
Overall, the Walt Disney World Railroad offers a charming and relaxing way to explore the Magic Kingdom while immersing guests in the nostalgia and spirit of early steam-powered train travel.
---
Fun Facts
There are 4 meticulously restored, working narrow-gauge trains you can ride, originally built between 1916 and 1928.

Walter E. Disney
Roy O. Disney
Lilly Belle, named after Walt's wife, Lillian
Roger E. Broggie, named after an original Imagineer who led the railroad project at Walt Disney World Resort

Each locomotive includes 4 sets of passenger cars; each train holds 375 people.
It takes roughly 20 minutes to travel around the park in the train.
The ride sees an estimated 3.7 million passengers per year.
---
Important Details
---