Disney has announced the official dates for next year's 27th Epcot Flower and Garden Festival. The event will run from March 4 to June 1, 2020 and will encompass most of the Epcot grounds (whatever isn't under constructions, that is).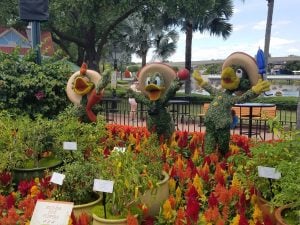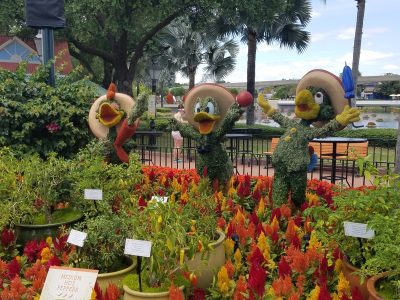 Flower and Garden Festival Highlights:
The 90-day Epcot Flower and Garden Festival will open with an irresistible array of sights, sounds, tastes, aromas and tactile discoveries:
Millions of brilliant blossoms in floral arrangements scattered throughout Epcot's Future World and World Showcase sections.
Flavor-rich cuisine from a number of special Outdoor Kitchens (see menu below)
Disney topiary stars including an all-new Remy topiary in the new Ratatouille Garden in the France Pavilion. Other topiaries include iconic Disney characters such as Snow White, Elsa and Anna, Belle and Beast, Mickey Mouse, Minnie Mouse, Miss Piggy and Kermit.
Interactive play gardens
Live chart-topping musical acts during the Garden Rocks Concert Series (see lineup below)
Flower and Garden Festival Outdoor Kitchens
Similar to other Epcot seasonal festivals, the Flower and Garden event features a number of outdoor kiosks offering unique dishes themed to the land that they are located in.
Each Outdoor Kitchen will feature its own raised-bed or in-ground garden of herbs and produce that can inspire the growing numbers of guests who want to learn to grow what they eat.
Here is a quick list of the Epcot outdoor kitchens for 2020:
The Honey Bee-stro (World Showcase Promenade)
Flower Full Kitchen (World Showcase Promenade)
Pineapple Promenade (World Showcase Promenade)
The Citrus Blossom (World Showcase Promenade)
Refreshment Port (World Showcase Promenade)
Northern Bloom (Canada Pavilion)
Fleur de Lys (France Pavilion)
Florida Fresh (Between France and Morocco Pavilions)
Taste of Marrakesh (Morocco Pavilion)
Hanami (Japan Pavilion)
Magnolia Terrace (America Pavilion)
Primavera Kitchen (Italy Pavilion)
Bauernmarkt: Farmer's Market (Germany Pavilion)
Refreshment Outpost (Between Germany and China Pavilions)
Lotus House (China Pavilion)
Jardin de Fiestas (Mexico Pavilion)
La Isla Fresca (World Showcase Promenade)
Trowel & Trellis (World Showcase Promenade)
Cool Wash (Future World near Test Track)
Flower and Garden Festival Menus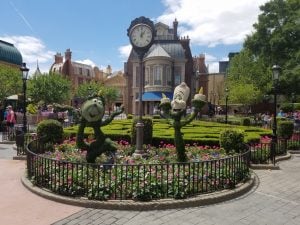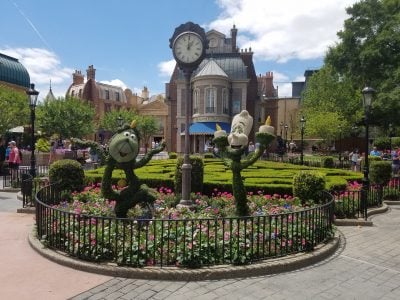 Here is a rundown of some of the special dishes, snacks and drinks you can enjoy at this year's festival:
Flavor Full Kitchen Hosted by AdventHealth
Food:
Grilled Baby Vegetables with Hummus Cream and Red Pepper Coulis (PB)
Seared Verlasso® Salmon with Farro Risotto and Micro-herbs
Strawberry Mousse with Chocolate Crisp Pearls (KA)
  Beverage:
Blood Orange Agua Fresca (Non-Alcoholic)
Cookie Butter Worms and Dirt (Non-Alcoholic, KA)
The Honey Bee-stro Hosted by National Honey Board™
Food:
Roasted Cauliflower with Buckwheat Honey Carrot Purée, Wild Rice Pilaf, Asparagus, Honey-blistered Grapes, Sunflower Brittle, and Coriander Flowers  (GF, KA)
Honey Tandoori Chicken Flatbread with White Cheddar Cheese, Charred Vegetables, Clover Honey Sour Cream, and Micro Citrus Greens
Local Wildflower Honey-Mascarpone Cheesecake with Orange Blossom Honey Ice Cream garnished with Fennel Pollen Meringue Kisses (KA)
Beverage:
Honey-Peach Freeze in a Souvenir Spike the Bee Sipper Cup (Non-Alcoholic, KA) (Novelty Sipper Only Available While Supplies Last)
B. Nektar New Wave Lemonade Mead, Ferndale MI
Florida Orange Groves Winery Orange Blossom Honey Wine, St. Petersburg, FL
Honey-Peach Freeze with Blueberry Vodka
Pineapple Promenade
Food:
Spicy Hot Dog with Pineapple Chutney and Plantain Chips
Mixed Berry Buttermilk Cake
DOLE Whip®  (PB, KA)
Beverage:
Frozen Desert Violet Lemonade (Non-Alcoholic, KA) 
DOLE Whip® with Fanta® (Non-Alcoholic, KA)
Collective Arts Brewing Piña Colada Sour, Hamilton, Ontario
Maui Brewing Co. Pineapple Mana Wheat, Kihei, HI
SweetWater Brewing Company Goin' Coastal IPA with Pineapple, Atlanta, GA
Playalinda Brewing Company Violet Lemonade Ale, Titusville, FL
Florida Orange Groves Winery Sparkling Pineapple Wine, St. Petersburg, FL
DOLE Whip®  with Parrot Bay Coconut Rum
Pineapple Beer Flight
The Citrus Blossom
Food:
Lobster Tail with Meyer Lemon Emulsion and Grilled Lemon (GF)
Tuna Tataki Bowl with Spicy Yuzu Glaze, Mango, Avocado, and Pappadam Crisp
Crispy Citrus Chicken with Orange Aïoli and Baby Greens (GF, KA)
Citrus Shortcake: Orange Chiffon Cake, Lemon Curd, Mandarins, Whipped Cream, and Citrus Crumble
Beverage:
Orange Cream Shake in a Souvenir Orange Bird Sipper Cup (Non-Alcoholic, KA) (Novelty Sipper Only Available While Supplies Last)
Islamorada Beer Company Coconut Key Lime Ale, Fort Pierce, FL
First Magnitude Brewing Lemon Hefeweizen, Gainesville, FL
Heavy Seas Brewery TropiCannon Citrus IPA, Halethorpe, MD
Orange Sunshine Wine Slushy
Beer Flight
Refreshment Port
Food Items: 
Fried Green Tomatoes with Blue Crab-Fennel Salad, Remoulade, and Smoked Paprika Oil
Popsicle Trio: Honeydew, Raspberry-Mint, and Coconut-Lime (KA)
Beverage Items: 
Short's Brewing Company Starcut Ciders Squishy Hard Cider, Bellaire, MI
Northern Bloom
Food
Seared Scallops with French Green Beans, Butter Potatoes, Brown Butter Vinaigrette and Apple-wood Smoked Bacon (GF)
Beef Tenderloin Tips, Mushroom Bordelaise Sauce, Whipped Potatoes with Garden Vegetables (KA)
Griddled Maple Pound Cake with Warm Peach Compote and Sweet Corn Gelato (KA)
Beverage
Maple Popcorn Shake (Non-Alcoholic, KA)
Unibroue Éphémère Apple Wheat Ale, Chambly, Québec
81Bay Brewing Apricot with Maple Syrup, Tampa, FL
Collective Arts Brewing Blackberry Fruit Beer, Hamilton, Ontario
Maple Popcorn Shake with Tap 357 Maple Rye Whisky
Beer Flight
Fleur De Lys
Food:
Tarte aux Oignons Caramélisés et Chèvre: Goat Cheese Tart with Caramelized Onions on a flaky Pastry Crust
Canard Confit à l'Orange: Braised Duck Confit à l'Orange with Mashed Sweet Potatoes
Tarte Tropézienne, Coulis Framboise: Brioche Cake filled with Light Pastry Cream and served with Raspberry Coulis
Éclair Chocolat Framboise: Éclair filled with Raspberry and Chocolate Mousse
Beverage:
Kronenbourg Blanc 1664 Draft Beer
VeRy Raspberry: Rosé Wine with Natural Raspberry Flavor
Bordeaux, Merlot and Cabernet Blend, Château Tarin
La Vie en Rose Frozen Slushy: Vodka, Grey Goose l'Orange, St. Germain Liqueur, White and Red Cranberry Juice
Florida Fresh
Food:
Carne Guisada with Black Bean Cake and Cilantro-Lime Sour Cream
Spicy Blackened Shrimp and Cheddar Cheese Grits with Brown Gravy and Local Sweet Corn Relish
Key Lime Tart with Toasted Meringue (KA)
Beverage:
Watermelon Cucumber Slushy (Non-Alcoholic, PB, KA)
Tampa Bay Brewing Company Twisted Strawberry Fest Fruit Ale, Tampa, FL
Big Top Brewing Company Conch Republic Key Lime Wheat, Sarasota, FL
First Magnitude Brewing Monarch Milk Stout, Gainesville, FL
Florida Orange Groves Winery Sparkling Key Lime Wine, St Petersburg, FL
Watermelon Cucumber Slushy with Gin
Beer Flight
Taste Of Marrakesh
Food:
Harissa Chicken Kebab with Dried Fruit Couscous Salad and Cilantro Oil
Fried Cauliflower with Capers, Garlic Parsley and Chili-Ranch Sauce (KA)
Walnut Honey Baklava
Beverage:
Casa Beer
Larroque Chardonnay, Meknes
White Sangria
Desert Rose: Sparkling Wine topped with Pomegranate Liqueur
Hanami
Food:
Frushi: Strawberry, Pineapple, and Cantaloupe wrapped in Sweet Rice and Pink Soy Wrap served with Whipped Cream, Drizzled Berry Sauce and Toasted Coconut (KA)
Menchi Katsu Slider: Japanese-style Panko-breaded Beef Patty topped with Tonkatsu Sauce, Mayonnaise, Cucumber, and Pickled Lotus Root
Salmon Flower Ikura: Fresh-cut Salmon, Salmon Roe, Spinach, Watermelon Radish, and Chilled Ramen tossed with Poke Sauce
Beverage:
Kirin Draft Beer
Strawberry Nigori Sake
Furano Martini: Vodka, Lavender Syrup, and Yuzu Juice
Funnel Cake
Mini Funnel Cake topped with Lemon Cheesecake Ice Cream, Blueberries, and Powdered Sugar (KA)
Magnolia Terrace (NEW)
Food:
Southern Seafood Boil: Shrimp, Mussels, Crawfish, Potatoes, Corn and Andouille Sausage
Grilled Oysters with Cajun Butter
House-made Boudin Two Ways with Spicy Mustard
Pecan Cake with Maple Whipped Cream
Pecan Praline
Beverage:
Wild Heaven Beer Session Citrus Lager, Avondale Estates, GA
The Duck-Rabbit Craft Brewery Amber Ale, Farmville, NC
Parish Brewing Co. Ghost in the Machine Double IPA, Broussard,  LA
Beer Flight
Block & Hans
Beverage:
Arendelle Aqua Lemonade: Frozen Lemonade with Monin Cotton Candy (Non-Alcoholic, KA)
Redstone Meadery Black Raspberry Nectar, Boulder, CO
Arendelle Aqua Lemonade: Frozen Lemonade served with Monin Cotton Candy and Ole Smoky Blackberry Moonshine
Primavera Kitchen
Food:
La Regina "Margherita": Rustic Italian Flatbread, Vine-ripened Tomatoes, Whole-Milk Mozzarella, Parmesan, and Basil (KA)
Ravioli: Grilled Chicken Ravioli with Spring Vegetables and creamy Pesto Sauce (KA)
Zeppole: Ricotta Cheese Fritters, Powdered Sugar, Raspberry Sauce and Chocolate-hazelnut Drizzle (KA)
Beverage:
Peroni Nastro Azzurro Pilsner
Pinot Grigio, Santa Marina
Chianti, Gabbiano
Prosecco, Villa Sandi
Corbinello, Montegrande
Moscato, Fior d'Arancio Montegrande
Bellini
Frozen Italian Margarita with Limoncello and Tequila
Bauernmarkt: Farmer's Market
Food:
Potato Pancakes with House-made Apple Sauce  (PB, KA)
Potato Pancake with Caramelized Ham, Onions, and Herb Sour Cream
Toasted Pretzel Bread topped with Black Forest Ham and Melted Gruyère Cheese (KA)
Warm Cheese Strudel with Mixed Berries (KA)
Beverage:
M.I.A. Brewing Hugo, Doral, FL
Bitburger Premium Pils, Rhineland-Palatinate, Germany
Stiegl Brewery Radler Zitrone, Salzburg, Austria
Apfelschaumwein: Sparkling Wine and Apple Liqueur
Beer Flight
Refreshment Outpost
Food Items:
Pineapple Skewer with Tajin Seasoning (PB, KA)
Beverage Items:
3 Daughters Raspberry Lemonade Dry Hard Cider, St. Petersburg, FL
Short's Brewing Company Starcut Ciders Mosa Hard Cider, Bellaire, MI
Ciderboys Banana Bliss Hard Cider, Stevens Point, WI
Cider Flight
Lotus House
Food:
Szechuan Spicy Red-braised Beef Shank over Rice
Bon Bon Chicken Skewer with Sesame and Peanut Sauce
House-made Crab and Cheese Wontons
Beverage:
"Panda" Bubble Tea: Classic Milk Tea with Black and White Boba Pearls (Non-Alcoholic)
Jasmine Draft Beer
Marco Boba: Amaretto, Iced Coffee, Milk, and Boba
Kung Fu Punch: Vodka, Triple Sec, Mango Syrup and Orange Juice
Time Out: Bacardi Rum, Peach Liqueur, Peach Syrup, Piña Colada, Sprite®, Soda Water, and Magic Boba
Jardin De Fiestas
Food:
Chilaquiles con Pollo: Chipotle-braised Chicken and Tortillas served with Salsa Ranchera, Monterey Jack Cheese, Crema Mexicana, and Guajillo Cheese
Quesadilla al Pastor: Flour Tortilla filled with Monterey Jack Cheese and Pork Pastor topped with Grilled Pineapple, Salsa Verde, Red Onion, and Cilantro
Choriqueso Torta: Bolillo Roll filled with Chorizo and Monterey Jack Cheese, Avocado Mousse, and Jalapeños
Beverage:
Cruz Blanca Rosé Spritz: Effervescent Rosé Wheat Ale with Elderflower Liqueur
Mango Mexican Lucky Margarita: Spicy Ancho Verde Liqueur, 100% Agave Tequila Blanco, Mango-Passion Fruit Purée, Lime Juice, Applejack, and Ginger Cordial served with a Tajin Chili-Lime Salt Rim
Rosita Margarita: Rose Petal Liqueur, 100% Agave Tequila Blanco, Lemon and Cranberry Juices served with a Rose Petal Salt Rim
Trowel & Trellis Hosted by Impossible™ Foods
Food:
Grilled Street Corn on the Cob with Savory Garlic Spread (GF, PB, KA)
Impossible™ Farmhouse Meatball with Lentil Bread, Spinach, Marinated Vegetables, and Creamy Herb Dressing (PB)
Chocolate Pudding Terrarium with Avocado Cream, Matcha Crumble, and Baby Herbs (GF, PB)
Beverage:
Bloomin' Blueberry Lemon and Ginger Tea featuring Twinings of London® (Non-Alcoholic)
Playalinda Brewing Company Tropical Wonderland Wheat Ale, Titusville, FL
Bloomin' Blueberry Lemon and Ginger Tea featuring Twinings of London® with Tito's Handmade Vodka served in a Mason Jar
La Isla Fresca
Food:
Lamb Curry with Sweet Plantains and Rice
Sugar Cane Shrimp Skewer with Steamed Rice and Coconut-Lime Sauce (KA) 
Tropical Mousse Cup: Layers of Passion Fruit Cake, Coconut Mousse, and a Tropical Fruit Glaze with Fresh Pineapple (KA)
Beverage:
Tropical Freeze (Non-Alcoholic, KA)
Golden Road Brewing Tart Mango Cart Wheat Ale, Los Angeles, CA
Tropical Freeze with Parrot Bay Mango Rum
Cool Wash
Beverage Items:
Assorted Coca-Cola® Slushies (Non-Alcoholic, KA)
Joffrey's Coffee & Tea Co.
Nard Mouse Gear: Spring Berry Bliss – Frozen Strawberry and Coconut Syrup topped with Raspberry Vodka
Near Canada: Orange Splash – Frozen Lemon mixed with Orange Vodka
The American Adventure: Tropical Breeze – Frozen Lemon, Coconut Syrup, and Pineapple Rum
Near Disney Traders: Passion Flower – Frozen Passion Fruit and Tea infused with Lemon Vodka
Key: 
(GF) Gluten/Wheat Friendly Menu Selections
(PB) Plant-based Menu Selections
(KA) Kid Approved Selections
Flower and Garden Festival Musical Performances
Each year, the Epcot Flower and Garden Festival features a variety of musical acts to entertain visitors. The free 'Garden Rocks' concert series takes place in the America Gardens Theater in the American Pavilion of World Showcase. Here is a list of the 2020 Garden Rocks performers and the songs they are most known for:
March 4-5 – Peabo Bryson
March 13-16 – Simple Plan
March 17-19 – Starship ft Mickey Thomas
March 20-23 – Mark Wills
March 24-26 – The Spinners
March 27-28 – Sister Hazel
March 29-30 – The Pointer Sisters
March 31-April 2 – Former Journey Lead Vocalist Steve Augeri
April 3-4 – Blood, Sweat & Tears
April 5-6 – Exposé
April 7-9 – Berlin
April 19-20 – Rick Springfield
April 24-27 – Plain White T's
April 28-30 – Don Felder, formerly of The Eagles
May 1-2 – Don McLean
May 5-7 – Ambrosia with Peter Beckett
May 8-9 – Thelma Houston
May 10-11 – The Allman Betts Band
May 12-14 – Air Supply
May 15-18 – Herman's Hermits starring Peter Noone
May 19-21 – Mike DelGuidice & Big Shot
May 24-25 – Daughtry
May 26-28 – Marshall Tucker Band
May 31-June 1 – Survivor
Gardens of the World Tours
Also offered during the Flower and Garden festival will be special Gardens of the World tours. Here is a quick synopsis of what these tours include (source):
Over the course of 3 hours, join a knowledgeable Disney Horticulturist—and a small group of fellow enthusiasts—for a fascinating walking tour throughout the World Showcase Pavilions.

During your journey "around the world," you'll experience the following:

Become privy to behind-the-scenes tales about the award-winning topiaries and gardens that make the Festival so special.
Examine the role of landscaping at Walt Disney World Resort.
Learn ways you can apply Disney landscaping techniques at home.
Discover various plant materials and gardening techniques—and see how landscaping helps develop a theme.
The Gardens of the World tour costs $85 plus tax per person and is only available to guests aged 12+.
Ticket Details
For more information about the 25th Epcot International Flower & Garden Festival, call 407/W-DISNEY (934-7639). As the festival nears, more details will be available at FreshEpcot.com. The festival, including all gardens and exhibits, is included in regular Epcot admission.
Disney Character(s) in this Post:
Remy (Ratatouille)
Disney Park(s) in this Post:
Epcot