Disney has announced the official dates for next year's 29th Epcot Flower and Garden Festival. The event will run from March 2 to July 4, 2022 and will encompass most of the Epcot grounds (whatever isn't under constructions, that is).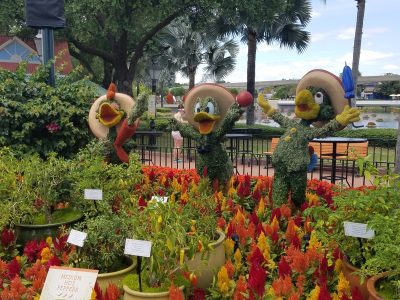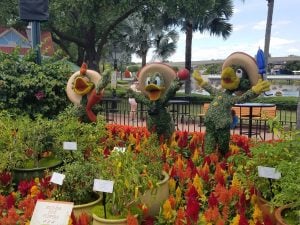 Flower and Garden Festival Highlights:
The 125-day Epcot Flower and Garden Festival will open with an irresistible array of sights, sounds, tastes, aromas and tactile discoveries:
Millions of brilliant blossoms in floral arrangements scattered throughout Epcot's Future World and World Showcase sections.
Flavor-rich cuisine from a number of special Outdoor Kitchens
Disney topiary stars including an all-new Remy topiary in the new Ratatouille Garden in the France Pavilion. Other topiaries include iconic Disney characters such as Snow White, Elsa and Anna, Belle and Beast, Mickey Mouse, Minnie Mouse, Miss Piggy and Kermit.
Interactive play gardens
Live chart-topping musical acts during the Garden Rocks Concert Series (see lineup below)
Flower and Garden Festival Outdoor Kitchens
Similar to other Epcot seasonal festivals, the Flower and Garden event features a number of outdoor kiosks offering unique dishes themed to the land that they are located in.
Each Outdoor Kitchen will feature its own raised-bed or in-ground garden of herbs and produce that can inspire the growing numbers of guests who want to learn to grow what they eat.
Here is a quick list of the Epcot outdoor kitchens for 2022:
Bauernmarkt: Farmer's Market (Germany)
Cider House (Located Near the United Kingdom)
The Citrus Blossom (Near Port of Entry)
EPCOT Farmers Feast (Near Test Track presented by Chevrolet®)
EPCOT Sunshine Griddle (Near Test Track presented by Chevrolet®)
Flavor Full Kitchen Hosted by AdventHealth (Between Imagination! and Refreshment Port)
Fleur de Lys (France)
Hanami (Japan)
The Honey Bee-stro Hosted by National Honey Board® (Near Port of Entry)
Jardin de Fiestas (Mexico)
La Isla Fresca (Between Morocco and France)
Lotus House (China)
Magnolia Terrace (American Adventure)
Northern Bloom (Canada)
Pineapple Promenade (Near Port of Entry)
Primavera Kitchen (Italy)
Tangierine Café: Flavors of the Medina (Morocco)
Trowel & Trellis Hosted by Impossible™ (Near Disney Traders)
Flower and Garden Festival Musical Performances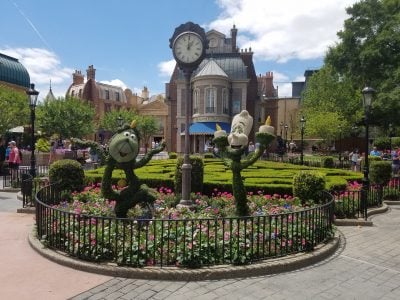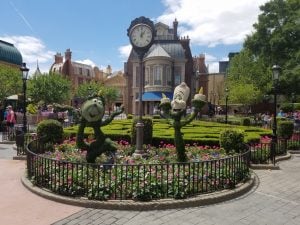 Each year, the Epcot Flower and Garden Festival features a variety of musical acts to entertain visitors. The free 'Garden Rocks' concert series takes place in the America Gardens Theater in the American Pavilion of World Showcase. Here is a list of the 2022 Garden Rocks performers and the songs they are most known for:
March 4 & 5 – The Guess Who
March 6 & 7 -Rick Springfield
March 11 & 12 -Melina León
March 13 & 14 -TBD
March 18 & 19 -Mike DelGuidice
March 20 & 21 -Kool & The Gang
March 25 to 28 -The Orchestra starring former members of ELO
April 1 & 2 -The Spinners
April 3 & 4 -The Pointer Sisters
April 8 & 9 -Blue October
April 10 & 11 -TBD
April 15 & 16 -TBD
April 17 & 18 -Don Felder, formerly of The Eagles
April 22 & 23 -STARSHIP featuring Mickey Thomas
April 24 & 25 -Claudia Leitte
April 29 & 30 -Berlin
May 1 & 2 -TobyMac
May 6 & 7 -Blood, Sweat & Tears
May 8 & 9 -The Commodores
May 13 & 14 -Ambrosia with Peter Beckett
May 15 & 16 -TBD
May 20 & 21 -A Flock of Seagulls
May 22 & 23 -Collin Raye
May 27 & 28 -Thelma Houston
May 29 & 30 -Little River Band
June 3 to 6 -Simple Plan
June 10 to 13 -Herman's Hermits starring Peter Noone
June 17 to 20 -Plain White T's
June 24 & 25 -TBD
Ticket Details
For more information about the 29th Epcot International Flower & Garden Festival, call 407/W-DISNEY (934-7639). As the festival nears, more details will be available at here. The festival, including all gardens and exhibits, is included in regular Epcot admission.
Disney Park(s) in this Post:
Epcot
---
Related News: