Here is everything you need to know about the amazing Disney movie Hercules including casting, reviews, fun facts and more. I hope you find this listing informative and helpful!
Description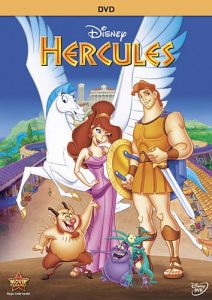 "Hercules" is a 1997 animated musical film produced by Walt Disney Feature Animation. Directed by Ron Clements and John Musker, the movie is a loose adaptation of the legendary Greek mythological hero Hercules.
The film follows the journey of Hercules, a young and enthusiastic demigod with extraordinary strength. However, due to a plot by the villainous Hades, Hercules is stripped of his godly powers and must prove himself as a true hero to regain his immortality. Along the way, he is aided by his loyal friends, including the satyr Philoctetes and the spirited Megara, while facing various trials and challenges.
"Hercules" blends Greek mythology with a vibrant, colorful visual style, catchy musical numbers, and a dose of comedy. The film incorporates a mix of traditional hand-drawn animation with elements of computer-generated imagery, creating a unique and energetic visual experience.
With an all-star voice cast that includes Tate Donovan as Hercules, James Woods as Hades, and Susan Egan as Megara, the film delivers memorable characters and performances. The music, composed by Alan Menken with lyrics by David Zippel, features uplifting songs such as "Go the Distance" and "Zero to Hero," adding to the film's charm and entertainment value.
Although "Hercules" received mixed reviews upon release, it has gained a dedicated fan base over the years. The movie is appreciated for its humor, memorable characters, and its reimagining of Greek mythology in a fun and accessible way.
"Hercules" remains a beloved entry in Disney's animated filmography, showcasing themes of heroism, self-discovery, and the power of believing in oneself.
---
Hercules Fun Facts
The film was directed by Ron Clements and John Musker, who also directed "The Little Mermaid," "Aladdin," and "Moana."
The film's character designs were inspired by Greek pottery and mythology, with the animators incorporating bold lines and patterns into the characters' designs.
The film features several references to other Disney films, including "The Little Mermaid," "Aladdin," and "The Lion King."
The role of Hades was originally going to be voiced by actor Jack Nicholson, but he turned down the role.
The film's production was delayed due to technical difficulties with the new CAPS (Computer Animation Production System) technology being used by Disney at the time. The film was eventually completed on time and within budget, but the delays meant that the film had a shorter production schedule than most other Disney animated features.
---
Crew:
Directors: John Musker and Ron Clements
Producers: Alice Dewey, John Musker and Ron Clements
Music: Alan Menken
---
Additional Details
---
Hercules Trailer:
---