Here is everything you need to know about the amazing Disney movie Pocahontas II: Journey to a New World including casting, reviews, fun facts and more. I hope you find this listing informative and helpful!
Description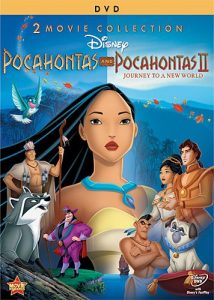 "Pocahontas II: Journey to a New World" is an animated direct-to-video sequel to Disney's 1995 film "Pocahontas." The movie was released in 1998 and continues the story of the Native American princess Pocahontas.
In "Pocahontas II," Pocahontas, voiced by Irene Bedard, receives a visit from English diplomat John Rolfe, voiced by Billy Zane. He has come to Jamestown to negotiate peace between the Native Americans and the English settlers. Pocahontas, who is grieving the loss of her first love, John Smith, is initially skeptical of John Rolfe's intentions.
However, she eventually agrees to accompany him to England as part of a diplomatic mission to meet King James and convince him to stop the war between the two groups. During their journey, Pocahontas faces various challenges, including cultural differences and the machinations of those who want to exploit her for their own gain.
In England, Pocahontas is introduced to the court and struggles to adapt to the lavish and rigid lifestyle of the English nobility. She also discovers that Ratcliffe, the main antagonist from the first film, is scheming to sabotage the peace mission and discredit her.
As Pocahontas navigates the complexities of the new world she finds herself in, she also becomes torn between her feelings for John Rolfe and her memories of John Smith. She ultimately learns the importance of staying true to herself and following her heart.
"Pocahontas II: Journey to a New World" explores themes of self-discovery, cultural exchange, and the importance of understanding and empathy. While the film received mixed reviews from critics, it remains popular among fans of the original "Pocahontas" movie.
The sequel features beautiful animation, memorable songs, and engaging characters. Despite its direct-to-video release, "Pocahontas II" managed to continue the legacy of its predecessor and provided fans with a satisfying continuation of Pocahontas' story.
---
Crew:
Director: Tom Ellery and Bradley Raymond
Producers: Leslie Hough
---
Additional Details
---
Pocahontas II: Journey to a New World Trailer:
---