Here is everything you need to know about the amazing Disney movie Tarzan including casting, reviews, fun facts and more. I hope you find this listing informative and helpful!
Description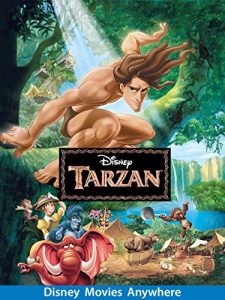 "Tarzan" is a 1999 animated musical adventure film produced by Walt Disney Feature Animation. It is based on the novel "Tarzan of the Apes" by Edgar Rice Burroughs. The film tells the story of Tarzan, a young man who was raised by gorillas in the African jungle after his parents were killed by a leopard when he was just a baby.
The movie begins with a tragic shipwreck that leaves a young Tarzan stranded in the jungle. He is found and adopted by a gorilla named Kala, who raises him as her own son. Tarzan grows up believing he is a gorilla and tries to fit in with his gorilla family, but he always feels different and struggles to find his place.
As he grows older, Tarzan encounters Jane Porter, a young explorer who has come to Africa with her father and their guide Clayton to study gorillas. Tarzan is fascinated by Jane and her world, and he quickly forms a deep bond with her. Jane, in turn, begins to see the human side of Tarzan and realizes that he is not just a savage beast.
The film follows Tarzan's journey of self-discovery as he learns about his human heritage and tries to find where he truly belongs. He must also confront the villainous Clayton, who has darker intentions and threatens the safety of the jungle and its inhabitants.
"Tarzan" is known for its breathtaking animation, captivating music, and strong emotional storytelling. The film features an iconic soundtrack by Phil Collins, which includes hit songs like "You'll Be in My Heart" and "Strangers Like Me."
The movie was well-received by both audiences and critics, praised for its animation, music, and heartfelt story. It was a commercial success and became one of the highest-grossing films of 1999. It also received several award nominations, including an Academy Award for Best Original Song ("You'll Be in My Heart"), which won the Oscar.
"Tarzan" remains a beloved classic in the Disney animated canon, and its portrayal of the iconic character has left a lasting impact on pop culture. The film's themes of identity, acceptance, and the importance of family resonate with audiences of all ages, making "Tarzan" a timeless and cherished Disney film.
---
Tarzan Fun Facts
"Tarzan" is based on the classic novel "Tarzan of the Apes" by Edgar Rice Burroughs, which was first published in 1912.
The film features songs by legendary musician Phil Collins, who also composed the film's score.
The film's animators studied real-life apes and other primates to create the characters' movements and behavior, resulting in some of the most realistic and naturalistic animation of its time.
The character of Tarzan was designed to have a more muscular and athletic build than previous Disney heroes, in keeping with his status as a wild and rugged jungle man.
The film features a thrilling action sequence in which Tarzan fights off a group of vicious baboons, which was inspired by a similar scene in the original novel.
The film's climactic showdown between Tarzan and the villainous Clayton takes place in a massive treehouse, which was inspired by the real-life Swiss Family Robinson Treehouse attraction at Disneyland.
The film's soundtrack features the hit song "You'll Be in My Heart," which won the Academy Award for Best Original Song.
The film has been praised for its stunning animation, memorable characters, and thrilling action sequences, and has become a beloved classic among fans of Disney animation.
---
Crew:
Directors: Kevin Lima and Chris Buck
Producer: Bonnie Arnold
Music: Mark Mancina
---
Additional Details
---
Tarzan Trailer:
---