Make Mine Music (1946 Movie)
Here is everything you need to know about the amazing Disney movie Make Mine Music including casting, reviews, fun facts and more. I hope you find this listing informative and helpful!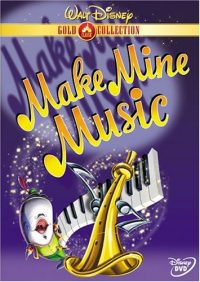 Make Mine Music Summary:
In the tradition of FANTASIA, MAKE MINE MUSIC is a glorious collection of musically charged animated shorts featuring such fun-filled favorites as "Peter And The Wolf," narrated by the beloved voice behind Winnie The Pooh. In addition, you'll enjoy such classic cartoon hits as "Casey At The Bat," "The Whale Who Wanted To Sing At The Met," and "Johnnie Fedora And Alice Bluebonnet," the whimsical adventure of two hats who fall in love in a department store window.
Individual Movie Segments:
The Martins and the Coys
Blue Bayou
All the Cats Join In
Without You
Casey at the Bat
Two Silhouettes
Peter and the Wolf
After You've Gone
Johnnie Fedora and Alice Bluebonnet
Willie the Whale Who Wanted to Sing at the Met
Related Music: