Rob Roy The Highland Rogue (1954 Movie)
Here is everything you need to know about the amazing Disney movie Rob Roy The Highland Rogue including casting, reviews, fun facts and more. I hope you find this listing informative and helpful!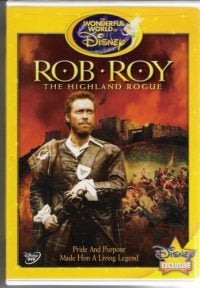 Rob Roy The Highland Rogue Plot:
In Disney's classic film Rob Roy The Highland Rogue, hen German-born King George I ascends to the throne of England, he appoints as Secretary of State the villainous Duke of Montrose, whose first evil order of business is to suppress the rowdy MacGregor clan and ensure their allegiance to the new king. But the devious Secretary of State underestimates the fervent Scottish pride running deep in the veins of fiery Highlander Rob Roy and his quick-tempered compatriots!
Key Cast Members:
Richard Todd: Rob Roy MacGregor
Glynis Johns: Helen Mary MacPherson MacGregor
James Robertson Justice: John Campbell
Michael Gough: Duke of Montrose
Finlay Currie: Hamish MacPherson
Jean Taylor Smith: Lady Margaret Campbell MacGregor
Geoffrey Keen: Killearn
Archie Duncan: Dugal MacGregor
Russell Waters: Hugh MacGregor
Marjorie Fielding: Maggie MacPherson
Eric Pohlmann: King George I
Ina De La Haye: Countess von Pahlen
Michael Goodliffe: Sir Robert Walpole
Martin Boddey: General Cadogan
Ewen Solon: Maj. Gen. Wightman
Ian MacNaughton: Callum MacGregor
Ted Follows: Douglas MacGregor
May Hallatt: Ballad Hawker
Hamilton Keene: Fort Commandant
Henry Hewitt: Lord Parker
Malcolm Keen: Duke of Marlborough
David Keir: Servant to Argyll